You have enough trouble just getting to work—especially if you live in an area like Boston, with some of the worst traffic in the country. The prospect of dropping your son off at a private kindergarten program in another town, adding another stop to your already headache-inducing commute, is hardly appealing.
The kindergarten program might be in the opposite direction from where you work or from where another child goes to school. Why not just send all your children to the same school? Or even easier, choose the kindergarten around the corner? Because, otherwise, the school is perfect for your son.
Finding a kindergarten program that fits your son's learning style and your family's values is an achievement. It's the culmination of months or years of research, campus visits, meeting with teachers and other parents, and assessing your son's needs. Don't let a few busy streets become a roadblock.
Fortunately, private school transportation issues are much less of a problem than you may think. If you live within the same metropolitan region as the school, it's likely there's a safe way to get your son there while still getting to work on time.
Here a few options. And if none of these work, just ask the school. Most high-quality kindergarten programs have helped hundred or thousands of families solve the private school transportation puzzle.
1. Get there early.
Some private schools may start earlier than the public schools in your area.
The Fessenden School, in West Newton MA, begins its school day at 7:50 a.m., 10 to 40 minutes earlier than the public elementary schools in Newton and neighboring towns. Fessenden allows parents to drop off their children as early as 7:30 a.m. That gives them up to an hour to drop off another child at another elementary school—or just a head start on the drive into downtown Boston.
2. Use the school's bus service.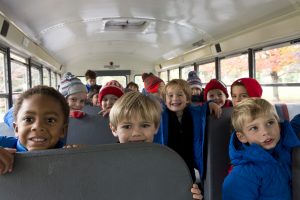 Just because your child will be attending a private school, it doesn't necessarily mean he'll miss out on the iconic yellow school bus experience. (Or that you'll miss out on the iconic first-day-of-kindergarten photo opportunity.)
Many schools have arranged bus service with private school transportation providers. The Fessenden School, for example, partners with the Local Motion Bus Company. The stops vary from year to year, but the service is currently picking up students in Arlington, Belmont, Boston, Brookline, Dorchester, Newton, Lexington, Wellesley, and Winchester.
The bus company and Fessenden plan routes to reach the greatest number of day students, and parents are encouraged to suggest new routes, which the school does its best to accommodate.
Your commute may be sheer drudgery, but to some of Fessenden's kindergarten students, the trip to school is a highlight of their day.
"I like that it has the stop sign on the side — I like to watch it pop out," one student says of his school bus. "I like to talk to the bus driver, Mr. Wilkins. I also like to watch out the window on rainy days."
The school bus is so beloved by Fessenden's students that "bus stop" has become a popular game among its pre-K students.
3. Carpool.
Sharing the private school transportation duties with other families in your area is not only convenient, it's the environmentally conscious choice. But how do you find other families with whom to carpool?
Many private schools now use an online portal that allows parents to communicate with each other, with teachers and staff, and to stay current on school news. Fessenden's My Fessy portal includes a popular carpooling feature that many parents use to arrange shared pickups and drop-offs with other families in their neighborhood.
Share your private school transportation tips.
Have you discovered a convenient, safe, and reliable way to get your child to his private kindergarten on time? Perhaps you've tried a ride-sharing app like Zemcar or HopSkipDrive. Share your experiences in the comments section below.
If you're still narrowing down your choices for private kindergarten programs, be sure to get your free copy of the Pre-K & Kindergarten Private School Visit Checklist. This helpful guide for parents includes 14 questions that will aid you in your search.