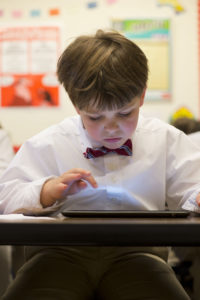 There are a handful of ways the culture of a private pre-K and kindergarten program might seem a little different to families used to public education. One thing that gives families pause when they tour our campus is seeing pre-K and kindergarten students (5-year-olds and younger) following a dress code. When you're used to seeing children this age in sweatpants and t-shirts, it can come as a bit of a surprise when you see them wearing collared shirts and dress pants. Older children here are dressed more formally, in blazers with button-down shirts and ties.
With the rest of the world moving toward round-the-clock casual wear, isn't it a little stuffy to expect 5-year-olds to follow a dress code?
At The Fessenden School, our dress code is more than a tradition. We believe it helps students of all ages learn better, focus more, and think seriously about how they present themselves to the world.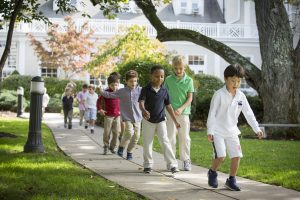 We recently spoke with Fessenden kindergarten teacher Greta Sanborn about the dress code for our youngest students. In Greta's experience, Fessenden's dress code benefits her kindergarten students in three main ways.
(By the way, our dress code for pre-K and kindergarten students is: Shorts or long pants and collared shirts [turtlenecks are fine]. A sweater may be worn with a collared shirt underneath. Sneakers are permitted. Sweatshirts, sweatpants, jeans and other obvious play clothes should be saved for after school and weekends. Blue blazers and ties are worn for special events several times during the school year. Sneakers are required for physical education.)
1. A dress code teaches students to respect their school and education.
"When our students get dressed up in the morning, they're sending the message to themselves that, 'What I'm doing is important. Where I go to school is important. I need to respect my school, my teachers, and my friends,'" Greta explains.
2. When they dress up, students feel ready to do their best learning.
One of the hallmarks of a Fessenden School education is how we integrate play seamlessly into our students' school days. But while we firmly believe play is the "work" of childhood, we still want our students to understand that learning is serious business. We encourage them to give their best at all times.
A dress code helps boys transition from home to school. When they are dressed for school, boys recognize they have entered a different world than their at-home world, and they should behave accordingly.
3. A dress code is a 'great equalizer.'
Kindergarten boys may be more aware than you think of the differences in their families' backgrounds and financial situations. A dress code removes these distractions so students can focus on learning.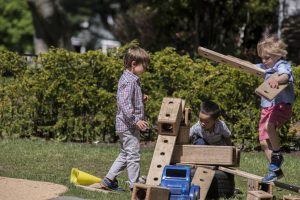 "No matter where you come from and what you have, when you come dressed to school the same way as the other students in your class, it works as a great equalizer," Greta says.
A dress code also eliminates the commercialism and "coolness factor" of getting dressed for school.
"They don't come to school dressed head-to-toe in Patriots' gear," Greta points out. "They leave that at home. They come to school ready to learn."
Greta notes that the Fessenden dress code does not discourage boys from expressing themselves. For example, boys in Greta's kindergarten class wear different sneakers and collared shirts with different colors. "But it's not just all about what they wear," she says.
You would be surprised to see the variation Fessenden students create within our dress code. Almost every boy has found some way to express his personality. If you want to see for yourself, Greta recommends taking a tour of our campus. You'll learn a dress code for pre-K and kindergarten students is not as rigid as it sounds.
While you're on campus, be sure to ask the 14 questions included in the Pre-K & Kindergarten Private School Visit Checklist. These questions are designed to help you find the best fit in a private pre-K or kindergarten program for your son.
What do you think?
Is a dress code for 5-year-olds an outdated tradition or an educational benefit? Let us know what you think in the comments section below.