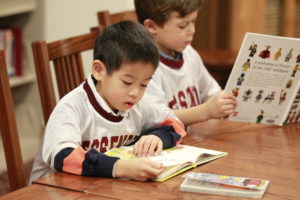 Have you exhausted your options at your public library? Are you overwhelmed by the sheer number of choices in the children's section of your local bookstore? Are you looking for the next download for your son's Kindle?
Thousands of children's books are published every year, and as a parent, your job is to sift through this mountain of choices to find the highest-quality books, the most enriching, educational, and entertaining options.
Who better to serve as your guide than someone who has spent close to two decades immersed in the world of children's literature? As Lower School librarian at The Fessenden School, Elizabeth Kiley has been helping families discover new reading material for 17 years.
For 5-year-old boys, Elizabeth advises, it's important to find books with an element of humor in them, or a story with rhythm and musicality.
"Boys find that incredibly appealing," she says. "If it's funny or it has a rhythm, they will almost immediately recite it back to you."
Here are Elizabeth's picks for the best new books for 5-year-old boys in 2016.
'
Thunder Boy Jr.
' by Sherman Alexie; illustrated by Yuyi Morales
What is it about?
Thunder Boy is named after his father. But he really wants a Native American name of his own, one that is based on who he is and one that makes him feel powerful.
"Thunder Boy has different connotations. The book is about exploring those connotations," Elizabeth says. "Some of them are pretty funny and some of them are pretty serious. He is working towards understanding who he is and trying to come up with something that would describe that within his community."
Why is it a good book for 5-year-old boys?
"I love picking stories that are about fathers and sons, in the hope that dads will sit down and read to their sons and encourage that relationship," Elizabeth says. "The illustrator, Yuyi Morales, is new on the scene, but his illustrations are incredibly colorful and powerful. Boys respond to them. They look a little digital."
What is it about?
A boy takes a journey through different groups of animals. As he visits each group, he experiments with the characteristics of those animals, comically contorting himself into their shapes. He wonders, does he really fit?
"He keeps moving on until he finds the tribe that fits, and of course, the tribe that fits for him is the tribe of kids," Elizabeth summarizes.
Why is it a good book for 5-year-old boys?
"Lane Smith is really whimsical and very appealing to boys," Elizabeth says. "There is always humor running throughout his books, whether it's in his language or his illustrations."
Like "Thunder Boy Jr.," this book also explores themes of identity and belonging to a group.
"I think 5-year-old boys are just beginning to see themselves as how they fit in a group rather than just who they are individually," Elizabeth says.
'
Last Stop on Market Street
' by Matt de la Peña; illustrated by Christian Robinson
What is it about?
A young boy takes the bus home with his grandmother after church. As the stops go by and he watches the other people on the street and on the bus, he starts to wonder why he doesn't have the things other children have.
"This story has this amazing sense of beauty," Elizabeth says. "The grandmother constantly points out the beauty in the urban landscape around him."
Why is it a good book for 5-year-old boys?
Like the other books on this list, "Last Stop on Market Street" features rhythmic text and eye-catching, colorful illustrations.
But, Elizabeth says, "It's got a much bigger message in addition to being a really wonderfully rhythmic story. It's one of the few books I've seen recently that deals with class and how young children can notice they don't have what somebody else has."
The story ends with the boy and his grandmother arriving at a soup kitchen, where they help out.
"Often books are strictly about teaching children that they should volunteer because it's a good thing to do," Elizabeth says. "The good work described in this book is just simply part of the story. It's just accepted as what this boy and his grandmother do."
Now share your top books for 5-year-old boys.
Is your son's favorite new book missing from this list? Share your top picks for 5-year-olds in the comments section below.
For more parenting tips from experienced elementary school educators like Elizabeth Kiley, subscribe to weekly updates from the Fessy-Den blog.