This week Lower School Head Stephen Billhardt share's his perspective on why family-style lunches are a unique and important part of the overall Fessenden experience.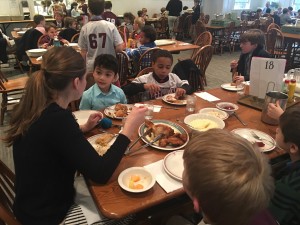 I would venture to guess that at 10:55 a.m. most people are thinking about things other than lunch! But in the Lower School, that is the magical time when boys in Grades 1-4 transition from their homeroom and specialists classes to the dining hall. I love Lower School lunches. They provide a special time for me to focus on the boys, their ideas, and interests, allowing me to be fully present in their lives.
Lunches at Fessenden promote connectedness, friendship, and conversation. The boys find their way to 16 tables, showing respect for their peers by remaining standing until their friends have arrived. Following brief announcements the boys will sit at tables with two students from each grade and an adult. At my table the fourth graders manage serving responsibilities and relish this important job.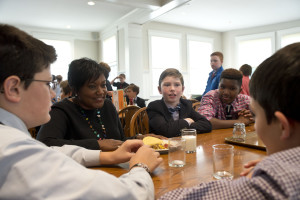 At the lunch table, I am sometimes the initiator of conversation, though rarely the facilitator. I try to ask open-ended questions like, "Tell me about your weekend." That sparks one boy to ponder and consider before answering me, and that one question can be enough to generate a full dialogue around the table, adding enough fodder to last the rest of the meal. As you can imagine, our conversations can touch upon anything; what we like to eat; jokes, riddles, and puns; stories involving family members; where we grew up; hockey teams we follow; school musicals and dozens of subjects of interest to them. Each month we move the boys around to new tables. This mixes things up and allows them to make new friends. I believe this speaks to our intimate community and the importance and value placed on connecting with one another.
As an educator and parent of two, I have a keen appreciation for family-style lunches and family dinners. The Family Dinner Project (FDP) is one organization that articulates and promotes the importance of families coming together during a meal. (I believe Fessenden is a second family for all of us.) Anne Fishel, Ph.D, co-founder of the FDP writes, "Dinner is a time to relax, recharge, laugh, tell stories and catch up on the day's ups and downs, while developing a sense of who we are as a family." This is true for us at lunch in the Lower School. After a morning of hard work, we are ready for time with peers and friends with healthy foods to nourish and energize us for the second half of our day.
At home, our family has used many tools to encourage conversation and dialogue at the dinner table. When my children were younger we would take turns sharing our "high and low" of the day, or use starter cards that asked us to respond to questions. And now, with a 15-year-old and almost 14-year-old, we dabble in politics, talk about pop culture, and their interests in music and sports.
The scientific benefits are clear. Dr. Fishel also states, "Sharing a family meal is good for the spirit, the brain and the health of all family members. Recent studies link regular family dinners with many behaviors that parents want: lower rates of substance abuse, teen pregnancy and depression, as well as higher grade-point averages and self-esteem. Studies also indicate that dinner conversation is a more potent vocabulary-booster than reading, and the stories told around the kitchen table help our children build resilience."
What else can families do that takes only about an hour a day and packs such a punch? Share your ideas with us in the comment section.