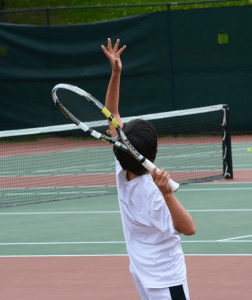 Athletics participation is an integral, foundational, and, yes, usually mandatory part of the junior boarding school experience. And for some families, that's a big reason they choose boarding school for their middle school-aged sons. Junior boarding schools tend to provide better facilities, a wider range of sports, and a higher level of competition than other schools.
Some families worry their sons aren't athletic enough to fit in at a school where sports are part of the everyday curriculum. Or they're concerned their sons will end up sitting on the bench, never really getting a chance to participate, while their more-skilled teammates claim all the glory.
Wherever your son lands on the spectrum of athletic ability and interest, if you're thinking about enrolling him in a junior boarding school for fifth through ninth grade, you may be wondering what to expect from the athletics program.
Who better to ask than someone with years of personal and professional experience in junior boarding school athletics?
We spoke with Peter Sanderson—Director of Athletics at The Fessenden School, Varsity Basketball Coach for nearly three decades, and the father of two Fessenden alumni—about the philosophy of athletics at junior boarding schools in the U.S.
Sports Provide Valuable Learning Experiences
Every school in the 10-member Junior Boarding School Association requires its students to participate in athletics for at least part of the school year. Most schools require all three sports seasons: fall, winter, and spring.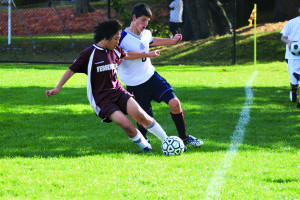 The reasons for this vary somewhat from school-to-school, but the common themes include promoting a lifelong commitment to physical fitness; teaching important character traits like fairness, respect, and responsibility; demonstrating the benefits of hard work, commitment, and contributing to a team; and because sports are fun—and fun is important for growing boys.
At The Fessenden School, we see athletics as a model of the project-based learning (active, learn-by-doing, student-centric learning and problem-solving) approach we use throughout our academic program.
"Boys need to be active and hands-on and creating things, versus sitting there and listening to somebody tell them facts," notes Sanderson. "In the athletics program, that's always been our approach. When the boys head out for their athletic participation, it's moving and learning and being active—the way that boys already learn the best."
Sanderson points out that almost all the coaches at Fessenden work with the boys in other ways off the field, as well.
"They're math teachers and they're dorm parents and they're the people that sit with the boys at the dining room table," he notes. "There's a consistency of message that transcends the entire school. Our expectations for behavior and cooperative group learning aren't any different in the science classroom than they are on the athletic field."
Athletics – More Than Just Football, Soccer, and Basketball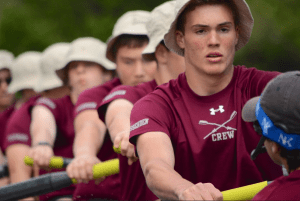 "Back in the day, you just had football, soccer, and maybe cross country in the fall," Sanderson explains. "If you didn't like those sports, you didn't have a choice. So boys played football or soccer without wanting to be there."
Those days are over. For proof, just look at the list of sports offered at The Fessenden School. The classics are all there—football, baseball, soccer, track—along with some options you may not have had when you were in middle school:
Mountain biking

Squash

Weight training/conditioning

Crew

Sailing

Cross Country Skiing
Now, at many modern junior boarding schools, whether your son prefers playing on a team or competing individually, whether he's in it to win it or would rather work on his own fitness goals, there's a sport for him. And if he doesn't find his niche right away, he'll have plenty of opportunities to try new things.
"It's a three-season scenario," says Sanderson. "They're doing something in the fall, they're doing something in the winter, and they're doing something different in the spring. There's an opportunity for change there, which is a good thing."
Sports are for Everyone—Not Just the Jocks
Is there a place for boys with less athletic ability or less interest in sports at a school with mandatory athletics?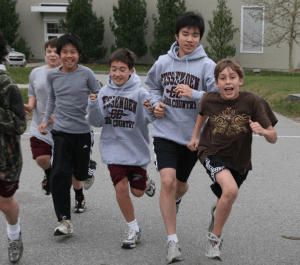 Of course there is. Sports don't have to be your son's main interest for him to learn important lessons and gain valuable experiences from them.
"I see non-athletes finding a niche in many, many ways here, including athletics," Sanderson states. "It may not be their number-one niche, but it's one that they've found a comfortable place in and a place where they've probably gotten more exposure, and more experience, than they would at their previous school."
The opposite is true as well. Even if a boy loves sports, he doesn't have to choose it over other pursuits. Sanderson shares that both his sons, enthusiastic athletes through college, "were in every play and every musical production that the school put on" during their time at Fessenden.
"It's not uncool to be in a musical production or be a really good artist as well as a good athlete," Sanderson believes. "We say to the boys, 'You can be both. You don't have to make the choice.'"
As for athletic ability, many junior boarding schools, such as The Fessenden School, offer their sports in tiers according to skill and competitive drive. Boys can choose to enjoy friendly intramural competition or try out to travel to other junior boarding schools to face off against the best athletes in their age group.
Fessenden, for example, has seven basketball teams: from varsity for the most skilled players, through the varsity B and C teams, two seventh-grade teams, and a team each for fifth and sixth graders.
"Boys are afforded an opportunity to participate at a level that's appropriate for their skills," Sanderson says. "At some schools, when they say, 'Oh, I didn't make the team, now what's my option?' There isn't one sometimes. That's a big part of what we have to offer, and we have the facilities to do so, too, both indoors and out. Of course, we are also very proud of how well we can accommodate the needs of really competitive athletes, as well."
What Questions Do You Have About Sports in Junior Boarding School?
Let us know in the comments if you have any questions about athletics at a junior boarding school, the sports program at Fessenden, or concerns about your star athlete being challenged or your non-athletic son fitting in.