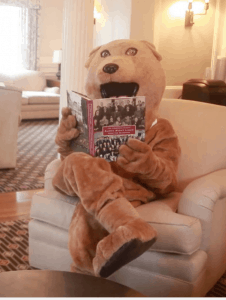 Visitors to Fessenden are sometimes taken aback by the unexpected presence of a five-foot-tall, furry, brown figure who stands guard in the lobby of Bernon Hall. Actually, you might encounter this friendly presence in a variety of locations around the School, because the Fessenden Bear, our school's beloved mascot, has a habit of turning up in myriad guises throughout our campus. Sometimes he carries a sign announcing an upcoming school event. He might be found wearing a Red Sox cap on Opening Day. This winter, he was elegantly costumed in a cape and mask as the Phantom of the Opera to help promote our staffulty cabaret, and most recently he was decked out as a robot inviting the community to our annual Wheeler Library Book Fair. He is certainly versatile, completely unpredictable, and always ready to serve the School.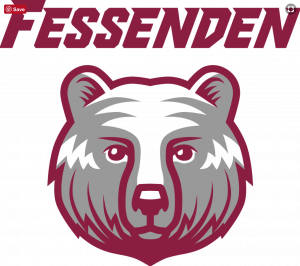 There are quite a few other versions of our friendly mascot that pop up around campus—stuffed teddy bears in offices and classrooms, bear paws and claws on our sports jerseys, commendations printed on bear-shaped paper, and framed pictures in the library. The Fessy Bear is a familiar and comforting image to the boys of The Fessenden School.
One might assume that this ubiquitous image has been around since Frederick J. Fessenden first launched his school back in 1903. However, that's not true! Our fuzzy comrade became the official symbol of the School in 1985, at the same time that we adopted our cherished core values of honesty, compassion, and respect. Then Head of School Randy Plummer, seeking to build a greater sense of community and a focus on character education, worked closely with members of the faculty to create a more child-friendly environment. As part of that effort, he decided that a mascot would be a wonderful common connection for our youngest to our oldest boys.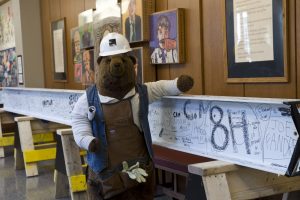 But what would our mascot be? Students were encouraged to submit their suggestions for consideration, and the ideas that emerged were interesting, to say the least. Alliteration was a favored tactic, with great support for choices like Falcons, Foxes, Frogs, and even Ferrets. Students advocated for Knights, Devils, Eagles, Bulldogs, and even Patriots! The final choice was unveiled at a special Morning Meeting in the Schoolroom that featured a mock "Battle of the Mascots" with the Bear finally emerging victorious, dancing on the desk at the front of the room as students cheered.
Our Fessenden Bear has been a perfect choice: a cuddly and approachable Cub for our smallest Lower School boys; a fun-loving, energetic Bruin for our middle schoolers; and a fierce, strong Grizzly for the oldest of our students. He is everywhere. Since that day in 1985, the Fessy Bear has lived on in our Bear of the Week award. He has appeared in videos, in student plays, at games, and at assemblies. He is a familiar member of the community, recognized and loved by all.
Go Bears!