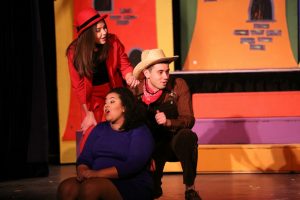 In February, Fessenden families once again gathered in the Performing Arts Center for an event that has become an annual crowd pleaser — the Staffulty Cabaret. This tradition has become a staple of the Fessenden experience, with countless staff and faculty performing in front of hundreds, even thousands, of Fessenden students and parents over the past thirty-five years. This recent edition of the show, "Cabaret 2017: A Magical Musical Fable", featured a cast of more than twenty faculty and staff singing and dancing to familiar Broadway tunes while parent, student, and faculty volunteers served refreshments to the crowd.  
Through the years, the content of the evening has varied, ranging from familiar 'book' musicals such as  Godspell, You're a Good Man, Charlie Brown, and Camelot, to original Broadway "revues" featuring songs from a variety of popular shows. On occasion, we have even combined the talents of our adults and students to present shows like Oliver! and Bye, Bye Birdie.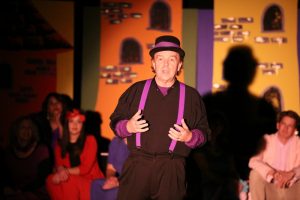 The latest versions of the cabarets have featured loosely written narratives, serving primarily as a vehicle for musical performances and broad comedy. The story told in this year's show featured a quartet of unhappy wanderers, who are sent on a journey to discover fulfillment in the Beautiful City of Song. They are guided on their quest by a pair of con men who pretend to be "The Wisest Man in the World" and his magical assistant, "The Scientist". The befuddled, lost travelers stumble through the show, and ultimately come to realize that the happiness they seek  has been present all the time in the friendships they have made and in their willingness to reach out to help each other — a familiar theme — and one that echoes the very reasons we have continued these shows for so long.
The amusement that the boys experience from seeing their teachers performing on stage dressed in colorful, silly costumes is always part of the appeal of this unique event. The fact that surprisingly talented singers and dancers are unveiled each year has also contributed significantly to the success of the evening. These performances are always entertaining and enjoyable, filled with high energy and comic moments.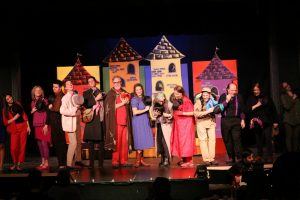 Nevertheless, the real reason for this event is that, as stated in our mission, it brings us together as members of an "inclusive and joyful community" to share and celebrate with each other through song. Like the quartet of wanderers in the show, this event, and others like it, create opportunities for students, parents, faculty, staff, and friends to gather together and strengthen our connections with each other.
There is never an admission charge for the staffulty cabaret, but it is a "neighborhood gathering" that creates something that is truly "priceless".