NuVuX AT FESSENDEN
The Ciongoli Center for Innovation(CCI) has welcomed hundreds of visitors annually since its inception three years ago. Teachers, administrators, admissions officers, technologists, librarians, artists, and more have come to learn about this exciting new space at the forefront of a much larger movement in the field of education. Visitors' initial reactions are mostly of awe at the striking physical space and intrigue about the "creative buzz." After learning more, they realize that the creation of this vibrant, collaborative makerspace has more to do with pedagogy than it does with specific tools or applications.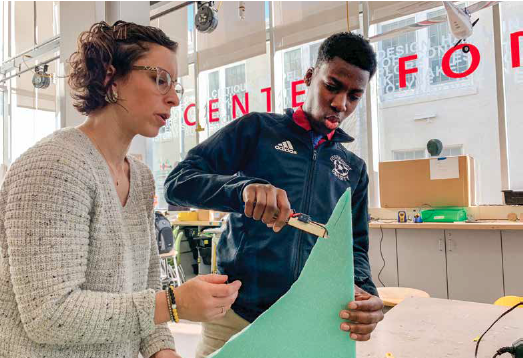 The School has worked closely with NuVu, an innovation school in Cambridge, Massachusetts, since the creation of the original innovation lab in 2013 and through the design and launch of the CCI in 2016. NuVu was founded to train students to develop innovative approaches to realworld problems, which is an essential skill set for success beyond primary and secondary education. The NuVu pedagogy utilizes the principles of the architectural studio model and is centered around hands-on learning-by-doing under the guidance of experts in their given fields. With multidisciplinary projects, the goal is to help students navigate the creative process through collaboration, iterative design, and critique.
This past year marked the beginning of an even more meaningful relationship with NuVu through NuVuX, a relatively new initiative developed to bring design, creativity, and innovation to schools around the world. NuVuX works with each partner—of which there are only 12—to develop the program within their school and train teachers who engage with students using this curriculum.
New Innovation Studio Class
At Fessenden, NuVuX designs and implements studio programs as part of Innovation Studio, an Upper School elective course. This class is managed day-to-day by the CCI and Wheeler Library staff along with NuVuX Fellow Tiandra Ray. In addition, the program is overseen by the NuVuX team in Cambridge. The on-campus group includes Director of the Ciongoli Center for Innovation Curt Lewellyn, Innovation Coach Lauren Maiurano, Upper School Librarian Erika Hoddinott, Middle School Librarian Marie St. Germain, and Lower School Librarian Lulu Kiley, along with Tiandra, the on-site NuVu curriculum expert. This group mentors students to develop their projects through an iterative process over the course of a semester.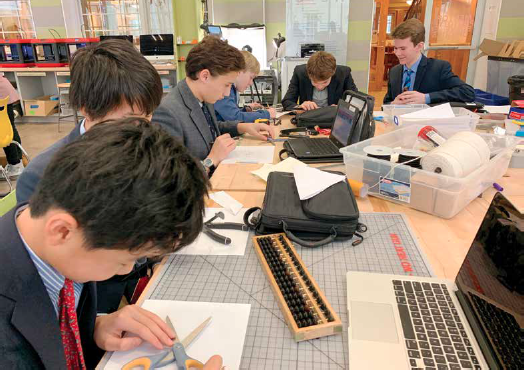 Using the architectural design studio model, coaches guide students as they work to solve complex, comprehensive problems. Within each multidisciplinary studio, students explore problems rigorously by focusing on a single, semester-long project. Throughout their months-long work, they are required to document their progress through the use of a digital portfolio on the NuVuX platform. The curriculum incorporates skills such as robotics, three-dimensional printing, and laser cutting, while working broadly through the lens of a given theme. On a broader scale, studio learning also requires synthesizing, incorporating, and navigating the delicate balance between technical skills, creative acumen, and human empathy in an effort to form a cohesive creative proposal and final project.
This past fall in the "Activist Installations" studio, one group explored the issue of redlining by designing a board game aimed at creating awareness about the inequity inherent in the systematic denial of services to residents in particular communities. Another pair of students worked to create an immersive "virtual experience" that helped shed light on the issue of access to education and the plight of many young Boston public school students due to a lack of resources.
For the spring semester, in one studio, students designed and prototyped "evolutionary body extensions" that respond to the effects of climate change and the impact that warming temperatures will have on humanity. In another studio, they created games that use play to invoke connection and empathy. The key to all of these projects? Moving from a base of technical knowledge and skills cultivated in the CCI to a higher understanding of how to apply the iterative design process to real-world problems. Another crucial piece of this work is developing the ability to receive critiques from peers and teachers, and then interpreting and incorporating that feedback moving forward.
Erika notes, "The CCI has become a hub of learning, exploration, empathy, and problem solving in an increasingly relevant way." Speaking about how the CCI has continued to hone its mission and approach to teaching and learning, she adds, "The evolution of this space and the ways it has come to be used is really inspiring to me as an educator. Early on I watched boys pursue passion projects and experiment with new technologies, but with the addition of NuVuX—and with Tiandra's guidance—we have been able to help the boys use their new skills to delve deep into relevant issues and create solutions to real problems."
Using the Studio Model With Younger Students
The studio approach is not isolated to Fessenden's oldest students. The School's innovation coaches and librarians, as a result of working with Tiandra, incorporate the NuVu studio model into their practice and instruction with boys in Middle School classes—through CCI Bootcamp (Grade 5) and Middle Makers (Grade 6). They also integrate principles of the NuVu pedagogy when working with Lower School classes in the CCI. For example, this past spring, the third grade classes embarked on a month-long studio guided by the theme of "Changemakers." Third grade teachers Jillian Collito and Maggie Amorello collaborated with Tiandra and Lauren to develop a studio that took a creative look at historical, cultural, and political changemakers through the lens of superheroes— likening their leadership, innovation, and compassion to real-life superpowers. For example: What if Harriet Tubman had had the ability to make both herself and others invisible? Working in pairs, the students designed and prototyped wearable devices that embodied these superpowers, such as an invisibility cloak that Harriet Tubman could deploy as she wrapped her arms around those she sought to free.
Lauren shares, "The growth that comes from young boys collaborating and navigating a partnership is a large part of the work we do in this space. They must begin to understand how to respect one another's views and ideas while merging their thoughts and feelings together."
The studio model is applicable to our youngest students for multiple reasons. Their natural sense of playfulness and imagination makes them ripe for this type of learning. In addition, the self-contained classroom, where the possibilities for multidisciplinary work are much more flexible, makes the Lower School an ideal setting for exposing boys to this method of engaging with material at a very young age.
Changing the World With Innovation Skills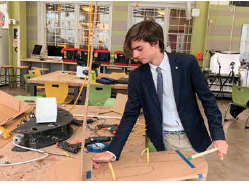 Throughout this process, boys exercise research, imagination, critical thinking, and self-reflection skills while engaging collaboratively in the iterative design process and the art of storytelling. Not only are they learning about the qualities and traits necessary to make a change in the world, but they are managing peer relationships and failure in a safe and constructive environment.
Looking ahead, Fessenden will explore new and exciting avenues for boys to engage with current issues through the collaboration with NuVuX. Students will continue to develop the skills to analyze their own ideas for change and channel them into creative, innovative expressions of advocacy and empathy. Tiandra notes, "We are moving beyond the realm of just making cool things, which is key in the beginning to get students comfortable with the space, process, and tools." She explains, "The most impactful part is when the boys gain the confidence to take this design process and make the connection between the world they want to see and their own capacity to effect change. It's when they realize the power of their own creativity, and that no problem is unsolvable."