Emphasizing the Relationship Between Leadership &
Values-Based Self-Development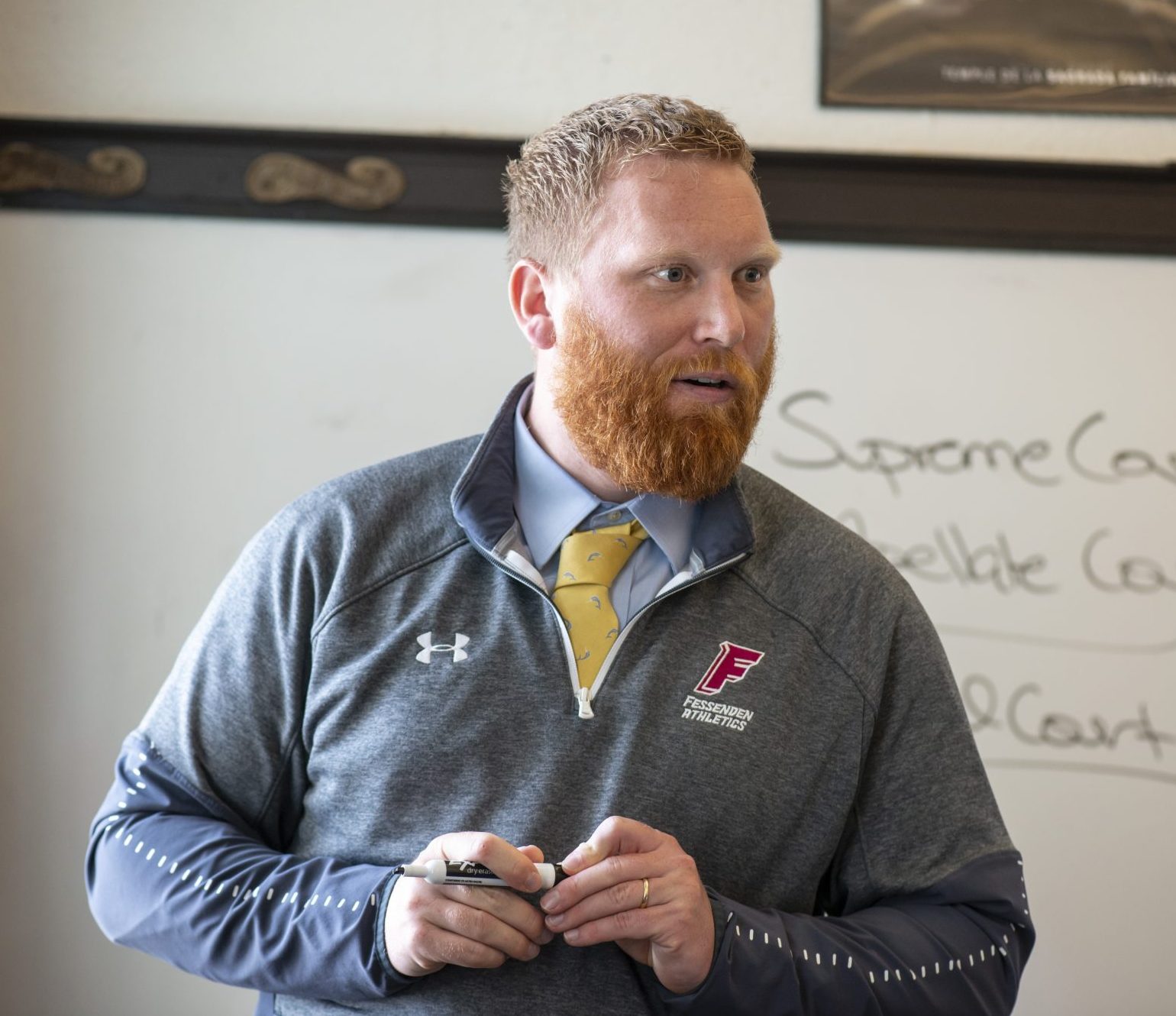 "Being a leader is not having a role—it's not having a title. It's bringing out the best in your peers; it's supporting others; it's being a good collaborator and teammate; it's being kind in all that you do; it's stepping up when nobody wants to," Upper School Dean of Students Kyle Beatty shares. This philosophy — that leadership manifests in many ways — was central to the creation of the Leadership Lab this past year.
Along with Kyle, Language Department Chair Megan Leahy and former Associate Director of Secondary School Counseling Pete Bidstrup worked together to create this Upper School student group that serves as a platform for the development of social-emotional skills. Leadership Lab values the implicit relationship between leadership and values-based self-development, and it emphasizes traits such as empathy, persistence, kindness, and mindfulness. As always, the School's core values of honesty, compassion, and respect serve as the foundation for work with students.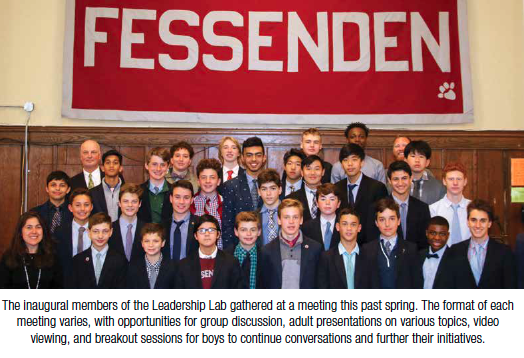 The first goal of the group is to introduce leadership development and to cultivate these skills within Upper School students.  Second, it seeks to gather feedback about students' school experiences in an effort to improve the environment for everyone in the community,  and to create initiatives where the boys can practice what they're learning and try to effect change both within and beyond the walls of the School.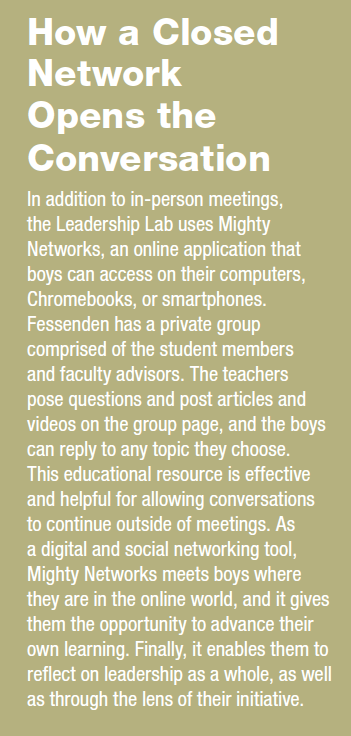 Through group discussion and project-based learning initiatives, students are asked to consider their personal leadership journey while honing their skills throughout the community. To this end, this past year the Leadership Lab focused on two initiatives, or sub-groups, that were developed from a list of ideas provided by students: sustainability and Upper School Morning Meeting. The boys chose which one to join, and their work has been student-directed. They have set their own goals and designed their own methods of achieving them. This engages them in real-life project-based learning—resembling problem-solving in the real world.
The sustainability initiative is focused on enhancing these practices on the Fessenden campus, work which has been ongoing for several years. Students met with Chief Operations Officer Mike Grossman to discuss the School's practices, and they enjoyed learning about various processes and seeing how decisions are made. Kyle remarks, "Sitting around the table with adults who have larger roles allows the students to see what skills other leaders embody and how they utilize those skills in real life."
The sustainability group has also focused on modeling behavior change by reducing, reusing, and recycling materials on campus. They have been encouraged to take note, during their day-to-day lives, of where these efforts can be enhanced. For example, one ninth grader noticed that cardboard from the dormitories could be brought to the Ciongoli Center for Innovation—rather than be recycled—and used for the many various projects that occur in the space.
Because all of the work in Leadership Lab is student-driven, it allows the boys to act independently in productive and meaningful ways. As they conduct discussions and make plans for next steps, the faculty leaders give them autonomy over the process while offering guidance to point them in the right direction. Kyle explains, "We are there every step of the way, and we make sure they don't give up even when things are not going as flawlessly as they would like." More important than the success of the product is how the boys get there. Along the way, they learn about the importance of a work process and develop the confidence to come back and try again.
In the Leadership Lab, anyone in the Upper School who wants to be involved can be. With over 40 students, Megan notes, "This model encourages participation by boys who may not be comfortable with leadership initially, and it gives them all a chance to be leaders in things they're interested in and passionate about."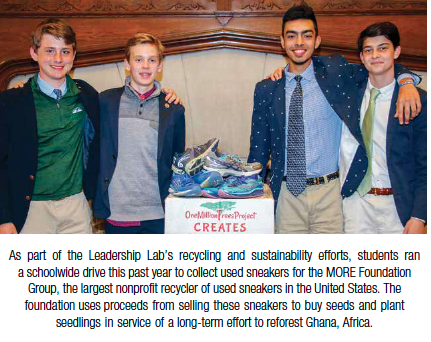 Furthermore, the group complements Fessenden's commitment to diversity and inclusion. By creating the Leadership Lab, Pete explains, "the School has developed a program that is more inclusive than the election-based model, which is finite in nature and could only accommodate 10–15 boys." The students who participate are diverse in terms of age, experience, country of origin, and social group. Kyle highlights, "What's unique is that you have so many personalities and types of boy who come to this opportunity with their own experiences, and they are all finding equal success and really learning from one another." By working with this varied group of peers, students develop and enhance their cross-cultural competency— the appreciation of and ability to collaborate with people from diverse cultural backgrounds, and the development of skills to be successful in an increasingly global world.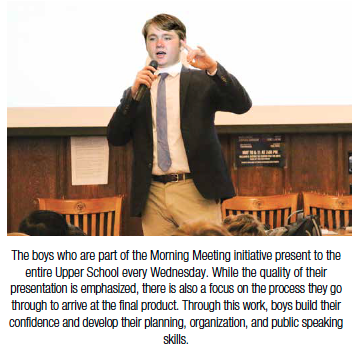 The students' work in the Leadership Lab comes together to enhance their self-awareness, authenticity, and perseverance. According to Pete, "leadership development ultimately helps kids be more self-aware and better able to persevere." He explains that it is critical to help children be more mindful, find more meaning in their lives, collaborate more effectively, and learn to let go and be comfortable not knowing the answer. As boys learn these important skills, "they are able to keep moving forward and be authentic to who they really are."
Eager to see how the Leadership Lab will impact both the division and the community, Head of Upper School Jason P. Lewis shares, "The potential for the Leadership Lab is as broad as it is exciting. By harnessing the energy of each boy who opts in, and channeling it through the format this group provides, the benefits will be tremendous."