"All the world's a stage," proclaims Jaques, the melancholy nobleman in William Shakespeare's "As You Like It." For our fall Fessenden theatre production, all the school will become our stage as we await the completion of our new auditorium later this school year.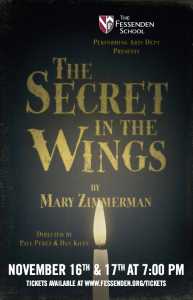 On Friday, November 16 and Saturday, November 17, our troupe of student actors will take over five areas of the School to perform "The Secret in the Wings," Tony Award winner Mary Zimmerman's inventive retelling of some lesser known Grimm's fairy tales. The play consists of four stories: "Three Blind Queens," "Allerleirah," "The Princess Who Wouldn't Laugh," and "Silent for Seven Years." This production also intertwines elements from the more familiar tale of "Beauty and the Beast," which serves as the framework of the stories—with a clever twist.
Faced with the challenge of mounting a production without the availability of a theater, Middle and Upper School Theatre Instructor Paul Perez saw this limitation as an opportunity. He designed a show in the contemporary style of immersive theatre, in which the audience interacts with the performance and is challenged to piece the story together as they follow the action from location to location.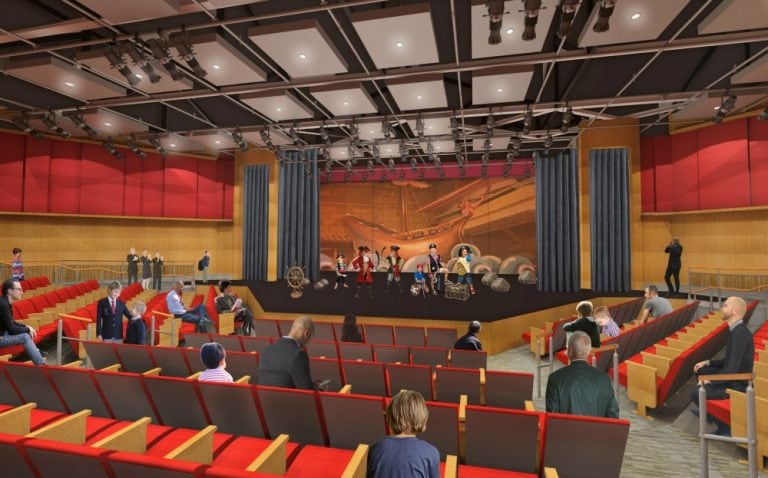 The ensemble cast of 17 actors will tell these darkly humorous stories to an audience that will move throughout the School, originating in the Schoolroom and moving to various locations that include the Ciongoli Center for Innovation, the Kelley Room, and Hart House. Each tale is finally brought to a conclusion in the Sanderson Dining Hall.
The boys are excited to be part of this unusual approach to theatre, although this is not the first time that a Fessy production has left the confines of the performing arts space. For many years, the Sixth Form Garden (the space currently known as Noah's Garden) was the idyllic setting for spring performances of Shakespearean plays. "A Midsummer Night's Dream," "The Tempest," "Much Ado About Nothing," and even the aforementioned "As You Like It" were typically staged outdoors for audiences on folding chairs or picnic blankets. In our old performing space, portable staging was arranged in every imaginable configuration. A production of "Twelve Angry Men" even sat the audience on stage, while the play took place on the gym floor.
Creative approaches have always been used to bring exciting, new experiences to our boys engaged in the performing arts. Although we eagerly anticipate great new possibilities that will be realized in our new theater, "The Secret in the Wings" is sure to be a stimulating evening in the theater—even though there is no actual theater.
Don't miss this week's performances:
– Friday, Nov. 16, 2018: 7:00-9:00pm
– Saturday, Nov. 17, 2018: 7:00-9:00pm
Admission is free but tickets are required. Reserve now at fessenden.org/tickets.