As an educational consultant, Carol Kinlan has helped hundreds of families in the Boston area find the best elementary school for their child. So who better to turn to for advice on finding the right private Pre-K or kindergarten program for your child?
Carol spoke to a packed room of parents of young children earlier this spring at The Fessenden School, many of whom had been making the rounds of local private kindergartens, frustrated by the seemingly impossible task of telling similar programs apart.
But, as Carol points out, if you ask the right questions, you'll start to see some very clear contrasts between private school kindergarten programs. When Carol wants the real inside scoop on a private kindergarten program, these are the four questions she asks:
1. How do the teachers react when they see something in a child about which they're concerned?
Some teachers, when they see something concerning in a child's behavior or their learning progress, will take a wait-and-see attitude, Carol says; the child will grow out of it, these teachers think. This is not a sign of an experienced teacher who gives individualized attention to his or her students.
"You want somebody who's going to say, 'I'm concerned about his reading now. Better jump on it.' Sometimes you have a child that gets a little extra reading support and quickly becomes quite advanced," Carol told the group at Fessenden last month. "That wouldn't happen with the wait-and-see approach."
2. Do children have opportunities for large and small group work, as well as independent learning?
As you visit schools, Carol recommends you watch to see if students are broken into large and small groups throughout the day and if they have time for independent learning. Negotiating the complexities of a group and staying on task while working independently are both critical skills students will need to succeed throughout their academic career, and in their future workplaces.
"Do they have opportunities to construct their own learning?" Carol asks.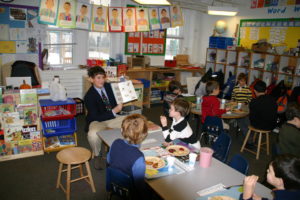 At The Fessenden School, for example, we recognize that boys take to teamwork naturally; it's one of the keys to our kindergarten teaching philosophy. (Read more about it in our article, "How All-Boys Kindergartens Teach Boys to Love Learning.") At the same time, we encourage and support boys to take on challenges on their own, learning and improving through their mistakes.
3. How does the teacher focus on the unique needs of each student?
When there are 20 students or more in a kindergarten class, it can be difficult for a teacher to provide individualized attention, Carol says.
"Remember, these are not 20 graduate students," she says. "These are kids that all have different personalities. Some are going to act out. Others are going to be extremely well-behaved but really shy."
If the school employs a teacher's assistant, it can be useful to get to know the assistant as well as the teacher. But, Carol points out, teacher's assistants tend to turn over frequently.
4. How does the teacher develop early literacy skills?
Reading is the "job description" of a child throughout elementary school, Carol says.
"Think of them coming with their little briefcase each day to first, second, or third grade," she says. "It's that activity of decoding and comprehension—off the page or off the laptop—that's critical to how they learn anything else."
A private kindergarten program should make reading the cornerstone of its curriculum.
"You want a place where you walk in and you see they've got words and letters up on the wall," Carol says. "They have someone who understands the Orton-Gillingham approach [a multisensory approach to reading education, used by the teachers at The Fessenden School] and is watching for the benchmarks of kindergarten literacy, for how the students are listening to words and letters and how fast they can name words and letters."
More Questions for You to Ask
In addition to the four questions Carol listed here, our guide for parents, "Pre-K & Kindergarten Private School Visit Checklist," includes 14 more questions to ask to make sure a private kindergarten program is a good fit for your child. Follow the link for your free copy.
Do you have any questions you would add? Share your thoughts in the comments section below.