Listen in on any playground conversation in the city of Boston. They're all asking the same question: "Can we stay in the city and find the right school for our children?"
One Boston parent, a South End resident, told us she and her husband started weighing educational options for their first child when he was only two. This, she said, is by no means uncommon among Boston families.
"From ages 2 to 4, where you're going to go to school is all parents talk about," she said.
Why are Boston parents always talking about school options?
While there are some very good schools within the Boston Public Schools district, they are managed by a lottery system that can be overwhelming and unpredictable. Life in the Hub has its benefits. Many families adore the urban lifestyle, but they want more control over where their children attend school.
This leaves them with a few choices: take their chances in the Boston Public Schools lottery, move out of the district, or look into private school options. (There are a few more, but these are the big ones.)
Let's take a look at the pros and cons of each choice.
1. Move to the Boston Suburbs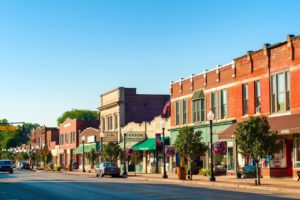 You don't have to move far from Boston to find a top-ranked school district. Suburbs like Newton, Lexington, Weston, and Wellesley all have schools with excellent reputations.
Pros:
In certain suburbs, you'll be guaranteed a quality public education for your child no matter what elementary school he or she is assigned to.

Top suburban public schools are usually located in safe neighborhoods, with well-maintained facilities and enough space for large playgrounds and playing fields.
Cons:
Not everyone is attracted to suburban life. As

one Jamaica Plain school parent put it

, "A car that sits in the driveway 90% of the time, because we can walk, or bike, or T to work and to play…Nightly sunset displays from our back porch or dining room, and unobstructed views as the sky lights up over the lush hills of the Arnold Arboretum…Over a thousand acres of green space in our backyard…One of the most diverse communities in Boston or anywhere, with a rich array of community traditions…We are in such a special place."

If you work in Boston, moving to the suburbs could increase your commute significantly.

Finding the perfect house in the suburbs, packing up, and moving there is a major change for any family, especially one with young children.—not to mention the cost of

real estate

in some of the tonier suburbs rivals that of downtown Boston.
2. Take Your Chances in the Boston Public Schools Lottery
If you do choose to remain in Boston and send your child to a public school, he or she won't be guaranteed entry to your first-choice school—even if it's right next door. You'll have to learn to navigate the arcane complexities of the Boston Public Schools school choice lottery.
Pros:
If the

lottery works in your favor

, you can maintain your urban lifestyle (and shorter commute) while your child attends a high-quality public elementary school.

Urban school districts like Boston tend to have more diverse student populations, which many families appreciate.

Some very-involved families have banded together to

"rehabilitate" a lower-quality school

when assigned there through the lottery.
Cons:
Your child will not be guaranteed entry into your first-choice school for kindergarten. He or she will not be guaranteed entry into public pre-kindergarten (which Boston Public Schools calls

K1

) at all.

You'll have to go through the school choice process all over again for middle school and high school.

Boston is a large city. Some of the best elementary schools in Boston may not be that close to your home.
3. Consider a Private School
Some Boston families dismiss the idea of private school out of hand, thinking they could never afford the cost, or that private schools are too exclusive or too elitist for their families. But, if you hope to remain in Boston, there are some very good reasons to look at the many high-quality private pre-k and kindergarten programs in and around the city.
Pros:
Whatever your child's strengths are, there is sure to be

a private elementary school in the Boston area

that's a good fit for him or her—starting at pre-K or kindergarten.

The best private elementary schools in the Boston area have excellent academic reputations, top-notch facilities, small class sizes, and committed faculty.

Private schools offer a wider range of academic options than public schools. For example, smaller class sizes and greater access to the arts.
Cons:
Private schools charge tuition (although most offer

financial aid

and make every effort to make themselves affordable to families for which they're a good fit).

Your children will not necessarily attend school with their friends from your neighborhood. But this happens with the public school lottery, as well. "In our high rise, every kid goes to a different school," the South End mother told us.

Private schools don't use the public school transportation system. Many private schools do provide their own transportation services, however. The Fessenden School in Newton, for example,

offers bus routes

for students from Arlington, Belmont, Boston, Brookline, Dorchester, Lexington, Wellesley, and Winchester, and helps parents in other areas arrange car pooling.
Are you a Boston parent with questions about your educational options?
Let us know in the comments section of this article how we can answer your questions about finding the right school for your child, public or private.
If you do decide to look into the private school option, follow this link for a free copy of our Pre-K & Kindergarten Private School Visit Checklist. It will help you make sense of all the information you'll receive during your private school visits.