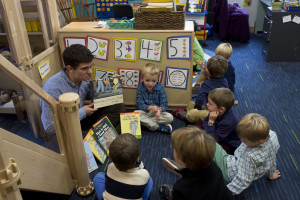 Is your son ready for kindergarten?
This might seem like a silly question. Kindergarten, after all, is the traditional first step in a formal education. If you grew up in the '70s or '80s, it probably was for you. What do you have to do to get your son ready?
Quite a bit, actually. Greta Sanborn, a kindergarten teacher here at The Fessenden School, described the change from life at home to kindergarten as a "huge leap" for young children, socially, emotionally, and academically.
Pre-kindergarten programs like Fessenden's aim to make that transition a little less intimidating, combining the basics of math, reading, and technology with creative play and cooperative exercises. The goal is to lay a solid academic foundation for students as they move on to kindergarten, while teaching them to play and work together with patience and kindness.
In Fessenden's Pre-K, our days are packed with learning and fun to prepare boys for their next steps. Greta says, "If you can give a child all the tools that they need to be successful in kindergarten, why wouldn't you?"
What Research Says About Pre-K
Fifty years ago, it was uncommon to start school any earlier than age five. According to the National Institute for Early Education Research, though, the trend to start school at a younger age has steadily picked up steam since the 1960s. By the beginning of the 21st century, the institute says, well over half of all Americans were starting school at age four.
"The primary source of growth is increased demand for the education of young children by all parents," the institute reported. In other words, as the 20th century gave way to the 21st, more and more parents began to see the value of starting their children's education earlier.
Recent research confirms this idea. One Harvard expert told the Huffington Post that a child's brain grows to 90 percent of its adult size during the first five years of life. During these years, the brain is ripe for learning.
"There is so much brain development that occurs between birth and age 4," Greta says. "What an incredible opportunity to give your child the 'head start' of a high-quality pre-K program."
How Pre-K Prepares Students for Kindergarten
The experience of the teachers here at Fessenden proves that pre-K really does help many children do better in kindergarten.

"Our kindergarten teachers often tell us that the boys who come into their classes from Fessenden's Pre-K program have already developed strong math and language skills for their age," Greta notes.
In addition to getting a head start in math and reading, children in high-quality pre-K programs start adapting earlier to the social sphere outside of their homes.
"For a lot of 3-year-olds, their social world might just include their parents, their siblings, and some neighbors," says Sari Pogorzelski, a pre-K teacher at Fessenden. "Having the chance to socialize at school, not just with a diverse group of children, but also teachers, can make a huge difference as students move on to kindergarten."
Pre-K helps children develop valuable linguistic skills, as well.
"Social experiences help boys learn how to communicate and talk," Sari says. "It works a different part of their brains. From that perspective, the life experience of pre-kindergarten has a lot to offer."
What Do You Think? Has Pre-K Helped Your Child?
Pre-kindergarten may not be absolutely necessary for building a successful academic career and developing healthy social skills, but research and experience show that it can help.
Has your child gone through pre-K? How did it help him or her in kindergarten and beyond? Let us know what you think in the comment section.
Whether you're interested in starting your son at a private school in pre-kindergarten or kindergarten, as you visit schools, take along a copy of this Pre-K & Kindergarten Private School Visit Checklist. It gives you the 14 most important questions to ask to make the most of your precious few hours at each school.