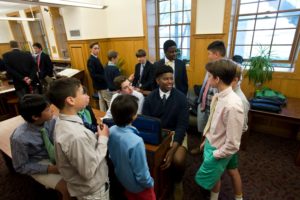 Ninth grade is not always the most fun year of high school. It can be a jarring transition from the top of the middle school pecking order to a new school dominated by students three or four years older than you.
Ninth graders almost everywhere experience this humbling rite of passage, at public schools and private schools, boarding schools and day schools. The one place it usually doesn't happen is at a junior boarding school, such as The Fessenden School. Here, ninth graders are kings of the campus.
"If you're a ninth grader at a school with a thousand other students, you're comparing yourself to all of them. You're looking up at all of these high-achieving, accomplished kids, and you're doubting yourself," says Tim Murphy, Director of Secondary School Placement at The Fessenden School.
At a junior boarding school, on the other hand, ninth graders find themselves at the pinnacle of a smaller community. Fessenden, for example, has about 200 students in its Upper School. Ninth graders here are leaders. As a result, they're more confident than typical ninth graders.
"When you feel academic, social, and athletic confidence, you take more risks. You push yourself harder," Tim says. "You're more willing to put yourself out there and add challenges to your daily life than you are when you're a freshman feeling inadequate about your ability to contribute to your community."
Students who spend ninth grade at junior boarding schools enter tenth grade primed to succeed.
"When our students enter tenth grade at their next school, they are more likely to try out for a varsity sport. They're more likely to run for class office. They're less likely to have low self-esteem because they have accomplished these things before," Tim says.
(Watch this video of the what ninth grade is like at a junior boarding school.)
Here are three confidence-boosting experiences your son will have in ninth grade at a junior boarding school.
1. Being Looked up to by Younger Students
"Ninth graders at Fessenden are leaders," Tim says. "They are looked up to by all of the younger kids in the school."
It's not just because they're older that younger students look up to ninth graders at Fessenden. Many ninth graders serve in leadership positions, such as:
Table monitors in the dining hall.

Dorm proctors who help dorm parents mentor younger students and run the dormitory.

Peer tutors.

Athletic team captains.

Mentors to younger day students and boarders.

Classroom volunteers for elementary students.

Student government leaders, including school president.
2. Playing Varsity Sports
It's rare for even the most gifted freshman athlete the make the varsity team at a four-year high school. And those who are selected don't get a lot of playing time. Contrast that with a junior boarding school like Fessenden, where talented ninth-grade athletes can reach the highest level of competition available in their age group.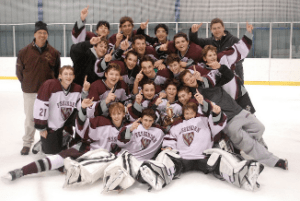 Fessenden's top teams are not called "varsity" for nothing. Players who reach that level have the chance to compete against some of the best athletics programs in the region, often against the junior varsity teams of top secondary boarding schools.
"Our varsity coaches are just as qualified and talented as varsity coaches at the high school level," Tim says. "Our student-athletes have access to the best coaches, the best competition, and the best exposure to the secondary schools where they might want to compete after Fessenden."
On top of that, ninth grade athletes at Fessenden may also have the chance to be elected captains, something for which they would have to wait four years in a high school.
3. Forming a Lifelong Network of Support
Few things boost a boy's confidence more than the support of a network of trusted friends. This is an often-overlooked aspect of spending ninth grade at a junior boarding school.
Tim describes the ninth-grade graduation ceremony at Fessenden as, "45 teenage boys with tears rolling down their cheeks as they hug their teachers to say goodbye."
"They feel such a deep personal emotional connection to their class, to the school, to each other. Alums tell us that the friends they made here in that one year were the closest friends that they have moving forward."
Even as the boys move on to other schools and make other friends, the connections they form in ninth grade at Fessenden remain.
"I can visit any secondary school where there are several Fessenden graduates spread across four different grades, and I can ask a senior Fessenden boy how all the other kids are doing," Tim says. "He'll tell me exactly how the sophomore is doing, how the freshman is doing, how the junior is doing. They all look out for each other because they shared that bond of being in this community."
Where will your son spend ninth grade?
Let's get a discussion going. Let us know in the comments section what ninth-grade options you're thinking about for your son—and why.