We think there's a good boarding school fit for every boy who wants to attend, but the fact remains, at the top junior boarding schools in the country, some applicants will not be accepted on their first try. Here at The Fessenden School, we receive a few hundred applications every year, and unfortunately, there is not enough room at the school for all of our applicants.
What can you and your son do to stand out in a crowded field of applicants who are all vying for a limited number of positions at their first-choice junior boarding school?
The key word, says Caleb Thomson '79, Director of Admissions here at The Fessenden School, is "engagement."
"The way to stand out is to be engaged in the process," he says. "Schools want to see boys and their families who are excited about the opportunity."
What really impresses schools like Fessenden, Caleb says, is when families show they understand the unique attributes of a school and why a particular school would be a good fit for their son. In other words, schools don't want to feel like they're just one among a list of interchangeable options.
"I think the best way families can stand out is to let us know that they have done their research about our school, and speak specifically to what excites them the most about the potential opportunity for their son here," Caleb says.
Here are a few of Caleb's top tips on how you and your son can impress admissions staff by demonstrating engagement.
1. Ask relevant questions during the tour.
Admissions staff don't expect 13- or 14-year-old boys to immediately launch into questions as soon as their campus tours begin, Caleb notes.
"It is the job of the admissions officer to get them relaxed and comfortable and feeling safe enough to take a risk in terms of asking questions," he says.
According to Caleb, once the dialogue becomes more natural, it makes a good impression when boys ask questions about areas of the school that align with their interests. For example, if your son is interested in computers or robotics, he might ask about The Fessenden School's Innovation Lab (iLab) a cutting-edge technology workspace, where boys are encouraged to push the envelope of creativity, innovation, and problem solving by working on open-­ended, multi­disciplinary, and collaborative projects.
"Good questions would be, 'How often can I be in the iLab?' 'What classes do you offer?' 'Which type of classes use the iLab for projects?'" Caleb says. "That would show a level of interest. Once they start asking those kinds of questions, we can engage them in conversation and get to know them better."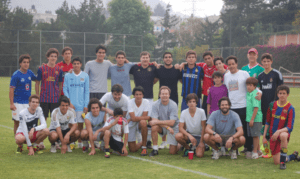 You son could ask similar questions about sports or the arts.
"He might ask, 'Well, what if I don't make the varsity team? I think I am a good soccer player, but it looks like your program is really good here. Can I still play?'" Caleb says. "Then we can tell him about the different levels of teams we offer here at Fessenden."
2. Engage with other adults (not just the tour guide).
Campus tour guides make it a point to introduce boys and their families to teachers, coaches, and other adults at a school, Caleb explains. They watch to see if boys strike up conversations with these other adults when they have the opportunity.
"We look for their ability to be able to have a conversation with a coach or a teacher and showcase what they are interested in and what they are good at and what they like doing," he says. "That shows their comfort level and ability to interact with adults that they are meeting for the first time."
3. Stay in touch.
Engagement shouldn't end after the campus tour, Caleb says. You and your son can "keep the lines of communication open" by emailing thank-yous and follow-up questions..
"It builds trust and it builds a connection," Caleb says. "We especially love it when the boy takes that on and maybe even asks some follow-up questions after his visits to the other schools he's considering."
Another way to stay engaged after a campus tour is to request an overnight stay. Many junior boarding schools, including Fessenden, now offer this.
"Overnights are a really good opportunity for the boy to check us out, to eat the food, to see the teachers in action, and to live in the dorms," Caleb explains. "It is a great opportunity to see if the school is a good fit."
How do you engage with junior boarding schools?
Do you have other tips for parents looking for ways to engage with their top-choice junior boarding schools? Share them in the comments section below.