Few decisions are as agonizing for parents in the Greater Boston area as where to send your son for his first year of school. You have many goals for his education:
You want to find a kindergarten program that will lay a solid academic foundation for the rest of his formal education.

You want a school where he'll fit in socially, making new friends and getting along well with his classmates.

You want a school that will support your efforts to develop your son's character, helping him learn and practice strong values.
But when you consider your private and public school options around Boston, the multiplicity of choices can become very overwhelming very fast. Each of these schools has its qualities. Many of them come with enthusiastic recommendations from other families. And if you look closely, each probably has a few drawbacks, as well.
This winter, we shared four questions you can ask to evaluate a private kindergarten program. Not surprisingly, it was one of our most popular posts. Many families found it useful for ferreting out the differences between seemingly similar schools, whittling down their lists to a manageable handful.
To help you narrow down your choices even more and find the best fit for your son and your family, here is part II. These are five more questions you can ask when evaluating a private kindergarten program.
(For other important steps to take on your private school search, read this comprehensive article from Private School Review.)
To Ask the Admissions Team
1. How does your school develop character?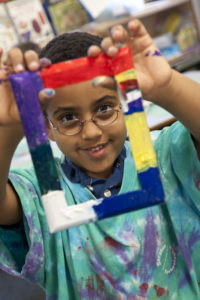 Strong academics are important but they're not everything. You want your son to grow as a person as well as a student. That means building character traits like honesty, empathy, respect, cooperation, and kindness. It means learning to work with others, taking his turn as a leader and contributing as a team member.
Besides the curriculum and learning environment, character education is often the area in which private kindergarten programs differ the most.
2. Why do you believe in single-sex education?
This question applies when you're speaking with representatives of an all-boys private kindergarten program, such as The Fessenden School. When you ask it, you may find that some schools follow a single-gender model due to more than tradition. In fact, single-sex education is on the rise in the United States, driven by research that shows its many benefits for developing young minds.
Boys, especially, tend to thrive in single-sex classrooms. At a school like Fessenden, teachers are able to adapt their teaching to the learning styles of boys: their natural rambunctiousness and their need to move around and learn by doing. Boys also tend to participate in a wider range of activities and display a more complete range of emotions.
As they say at Fessenden, at an all-boys school, "Everything is a boy thing."
To Ask Teachers
3. How do you teach kindergartners to read?
Reading is the foundation of your son's academic future and kindergarten is when that foundation will be laid. Literacy is the most critical element of the kindergarten curriculum, so be sure you understand how a school teaches reading before you decide to send your son there.
To help you ask informed questions about reading education, here is a recent article describing "3 Ways High-Quality Kindergarten Programs Help Boys Learn to Read."
4. Can you give an example of how you deliver personalized attention in the classroom?
Small class sizes and individualized attention from teachers are two of the main reasons families choose private elementary schools. You don't want your son to be just another student among many. You want his education to be tailored to his needs, his pace, his strengths, and his weaknesses.
In another of our recent articles, the father of a Fessenden student explains why individualized attention drew his family to a private school: "There's this incredible amount of understanding for the learning patterns of each boy and what instruction each boy needs in order to have the best outcome. And, the teachers know how to keep all these different boys engaged and challenged at the same time."
To Ask Parents
5. Why did you choose this school for your child? And did it live up to your expectations?
There are few better sources of information on a private school than the parents that have gone before you. Most admissions teams will be happy to put you in contact with families whose children have attended their school. This is your chance to get real "insider insight" on a school.
To avoid cheerleading, don't just ask parents what they like about a school. Ask about outcomes:
How has the school benefited your child one, two, or five years later?

Did the school live up to your expectations?

Do you feel your child missed out on anything by attending this school? And if so, was it worth it?
Nine More Questions to Ask When Evaluating a Private Kindergarten
These are just a few of the questions that will help you tell the difference between different private school kindergarten programs and find the best fit for your son. For a complete set of 14, follow this link for a free copy of the Pre-K & Kindergarten Private School Visit Checklist. You can print out this checklist and take it with you as you tour schools, speak with admissions officers, and meet with other families.
What are your questions about private kindergarten programs? Write them in the comments section below and we'll do our best to answer them.