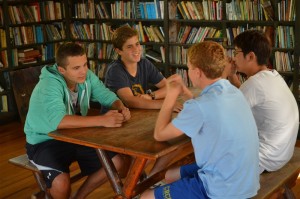 Secondary boarding schools traditionally start with boys entering in ninth grade (their "freshman" year). But many junior boarding schools offer the ability to continue studying in their program through ninth grade (and then start secondary school in tenth). So if you're planning on sending your son to boarding school for high school, you face a tough decision:
According to Tim Murphy, Director of Secondary School Placement here at The Fessenden School, even if you've never thought about boarding school at the middle school level before, there are plenty of good reasons to consider it.
If your son is looking for more leadership opportunities, a head start against the challenges of boarding school, and a rigorous academic program, a junior boarding school may indeed be his best choice.
We asked Tim to answer some of the most common questions parents have about ninth grade at a junior boarding school.
Will starting in tenth grade hurt my son's chances of getting into a top secondary boarding school? Aren't there fewer openings?
It's true that secondary boarding schools almost always have the most openings in their freshman classes. But they also keep a significant number of spots open for students entering in their sophomore year. One of the largest boarding schools, Phillips Academy Andover, for example, accepts 75 new students in their sophomore class.
Plus, fewer students apply their sophomore year, so the competition is not as intense. "Tenth grade is the second-largest entry point at almost all boarding schools," Tim says. "There are still a lot of spaces in tenth grade, with a much, much smaller applicant pool than in ninth."
Shouldn't high school start in ninth grade? What is the advantage of waiting?
Do you remember what ninth grade was like? As a member of the youngest age group in your school, you may have often found yourself on the sidelines—literally and figuratively—while older students took all your chances to prove yourself in sports, performing arts, and leadership.
"At a secondary school, there are limited leadership opportunities for ninth graders," Tim explains. "You can run for ninth grade class office, but there are very few school-wide initiatives that you're going to be spearheading or you're going to be passionately promoting."
At a junior boarding school like Fessenden, Tim says, " ninth graders are the  leaders. They are looked up to by all of the younger kids. They have worked their way up the totem pole to have opportunities, whether it's serving as a table monitor in the dining hall, running morning meeting in the Upper School, or being elected captains of varsity sports."
In many ways, students who attend ninth grade at a junior boarding school are better equipped to succeed at a top secondary boarding school.
Is junior boarding school for boys who aren't ready for the academic challenge of secondary school?
The nation's top secondary boarding schools are also some of its most rigorous academically. Even if your son would relish the academic challenge to get started early, that doesn't necessarily mean a secondary school would be the best fit for him.
A junior boarding school like Fessenden can provide comparable academic challenge and high-quality education in ninth grade as a top secondary boarding school, but with more support.
"We have faculty here who have taught AP biology at prestigious secondary schools, and are teaching a full lab biology course to our ninth graders," Tim says. "We have students taking Algebra II and precalculus. These students have gone off to many of the most competitive schools in the world."
Where will you send your son?
What do you think is a better option for ninth graders, a junior or a secondary boarding school? Let us know in the comments section