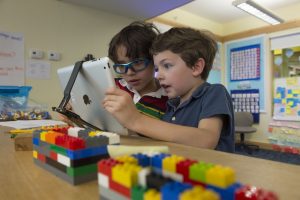 Given how radically the world of information has changed in the past decades, and how it will continue to change, your child can't expect to spend much of his time pouring through the indexes of densely-printed books, jotting down notes quietly on index cards, compiling them and rewriting them in his own words.
If this is your idea of how research is done, says Fessenden Lower School librarian Elizabeth Kiley, it's time for a new perspective. The "lone scholar" model is outdated.
"That's a pretty straightforward, somewhat old-fashioned look at what research is," Elizabeth says. "It used to be just pursuing and understanding information by yourself. At Fessenden, we have really changed what it means to do research. It's much more hands-on and interactive and performed in relationship with other people."
As a result, for even the youngest students, learning to engage with information  —a critical 21st-century skill—doesn't have to be a painful chore. Elizabeth told us about three projects in particular that have gotten students excited about research as early as second grade.
1. A Different Way of Performing
In one recent research project, second graders at Fessenden learned about what it means—and what it has meant in the past—to be president of the United States. This project is exciting to the boys because they get to present their knowledge in a new way; they're not just writing paragraphs.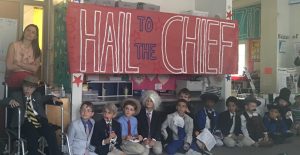 "They research their president, gather their life story, and gain an understanding of their impact on history — and then they perform as the president," Elizabeth explains. "They get dressed as the president. They stand up and present as the president."
Boys at Fessenden perform all the time, Elizabeth says. But this is "a different way of performing."
"Just the idea that they're going to stand up in front of their peers and parents to share this is pretty exciting for them," she said. When it came time to chose their presidents, the boys could hardly sit still, she recalled.
At the second grade level, boys at Fessenden are spared the arduous task of sifting through different research resources to find quality information. They will be taught that skill as they get older.
"At this stage, we're conscious of providing great sources for them. In this case, they use books and websites that have been vetted, and some digital media. It's much more about understanding what their president looks like and sounds like," Elizabeth says.
2. Animating Their Research
Another second grade research project at Fessenden brings information to life using a mobile app. This project, part of a rocks and minerals science unit, starts traditionally. Students look up information in books that have been provided to them, using a research organizer to understand what they're looking for in the sources.
Then, Elizabeth elaborates, "They take a picture of the rock or mineral and they use the ChatterPix Kids app to literally animate their research. They record the 'voice' of the rock so that the rock or mineral can speak to whoever comes to learn about rocks and minerals."
In the process, the boys don't just learn about geology. They learn there are other ways to share their knowledge beyond writing it down and reading it aloud.
"There can be really creative ways to express your knowledge, and certain kinds of apps can do that," Elizabeth says.
3. Something More Authentic and Personal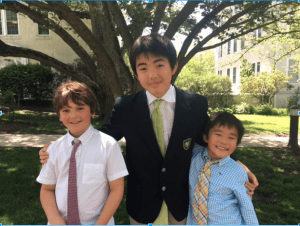 Every year at Fessenden, the second grade boys do a month-long study of another country. This year, one of the teachers has completely revamped that tradition.
Instead of studying a single country, the young boys buddied up with the English Language Learners in Fessenden's Upper School, older boys from countries like Ukraine, Korea, and China. The second graders interviewed their older schoolmates, and based on their interviews, wrote and assembled books about each of these countries.
The second graders' books will be placed in Fessenden's admissions office for prospective families to see.
"The books will serve as a welcome for people who travel from around the world to Fessenden. It will show them, 'These are the countries and these are the boys that are here at The Fessenden School,'" Elizabeth says. "I thought that was a terrific way to turn research around into something that's much more authentic and personal."
If you want to take a look for yourself at the fruits of Fessenden's second grade research, you can schedule a visit by calling 617-630-2300. If you do choose to visit Fessenden, or any other private elementary school, you will find this Pre-K & Kindergarten Private School Visit Checklist a helpful tool for asking the right questions to find the best fit for your child.
Do you have suggestions for exciting research projects for children in second grade, or even younger? Share your ideas in the comments section below.