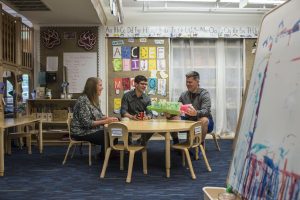 On this blog, we often write about choosing the right private kindergarten program and the right questions to ask teachers, admissions staff, and other parents when you're visiting a school. Now let's turn the tables. What questions should you expect to be asked?
Honesty is the best policy.
The most important thing to understand, says Margaret Kelly, Director of Lower School Admissions at The Fessenden School, is that whatever admissions staff may ask you, they're looking for genuinely honest answers. They don't want parents "packaging" their children and they're not looking for perfection.
"I don't think anybody in child development or in education expects perfection," she says. "There are going to be little 'warts' and things. So just own it. Be upfront about it."
Here are three questions you will most likely encounter when you apply to a private kindergarten program:
1. What do you want?
The first question you can expect to hear from admissions staff is, "Why are you looking at private school?"
"What are your hopes and dreams for your child's education?" Margaret elaborates. "What is it that you're seeking for your child that you're hoping to find at this school?"
There is no right or wrong answer to this question, Margaret emphasizes. It's all part of finding out if a school is a good fit for your child and your family. School officials want to understand your motivations for applying to be sure their school will meet your expectations and can deliver what you're looking for.
"In admissions, we learn so much about what families are seeking in a school environment for their child, and then we work backward from there: 'Here's how we might meet some of those hopes and dreams and goals.'" Margaret explains.
2. What are your son's strengths? What are his weaknesses?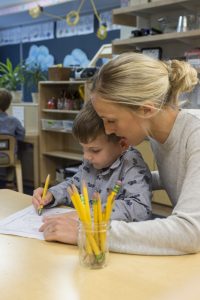 Most parents are more than happy to talk at length about their child's above-average abilities. But when it comes to their child's weaknesses, they clam up. When speaking with private kindergarten admissions staff, don't be afraid to be honest about the areas in which your son could use some extra help, Margaret advises.
"We're all so biased about our children, and that's natural," she says. "We do want parents to highlight their child's strengths—even brag about them—but can they also be honest about the challenges? We do really want to see how balanced parents can be in their presentation of their child."
3. Will we have a good partnership?
At Fessenden, we view ourselves as "partners in parenting." Faculty and staff have their role to play in raising and educating a child, as do parents. Throughout the kindergarten admissions process, our team is trying to discover if we can work together.
"Children will present challenges along the way. They're growing up and there are going to be great moments, but rarely does that trajectory travel in a straight upward line. It's a bit more of a roller coaster," Margaret says. "In those moments, how do you work with teachers?"
For example, if you hear about something your child experienced in school that concerns you, will you bring it up with a teacher? How?
In your interactions with admissions staff and teachers, you can demonstrate your willingness to partner by how you ask questions.
"You don't want to put an admissions person on the defensive. Sometimes we get really aggressive questions," Margaret points out. "I think a better approach to reveal your ability to partner is to ask questions that build on mutual understanding."
What questions have you been asked?
If you've already visited some private kindergarten programs, share your experiences with other parents  in the comments section below. What questions were you asked? What questions did you wish you had been asked?