As they set out to research educational options for their youngest son, Dave Visco and his wife Jen were met with the same confusion that many families encounter when looking at a long list of schools.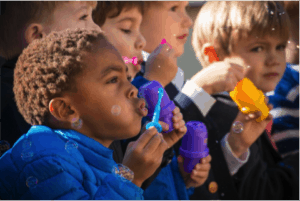 Take a glance at this list of preschools in Newton, Mass., and you'll find—among other things— preschools, pre-kindergartens, playschools, daycares, nursery schools, and early learning centers.
Like a lot of parents, Dave wanted to understand how these various types of school differ. Most importantly, he wanted to find the one that was the best fit for his son. Dave's two older sons had attended an independent coed nursery school in their area. He was looking for something different for his younger son.
"The nursery school was a great environment for them to be in, but, it wasn't focused on my individual boys' learning opportunities," he says.
Pre-K vs. Preschool: What's the Difference—And Does it Matter?
If you have trouble distinguishing a pre-K from a preschool, that's understandable. They're not well-defined terms.
As The Atlantic's Alia Wong points out, "'Pre-K' and 'preschool' are often used interchangeably in education circles and by the news media. After all, the two can mean the same thing: schooling that happens prior to kindergarten."
So the right question to ask isn't, "What's the difference between preschool and pre-K?" It's, "Whatever the school is called, how will it help my son prepare for kindergarten?"
Here at The Fessenden School, we call our program for 4-year-olds Pre-K for a good reason. Like they would at preschools and nursery schools, boys in our program get to play and have fun throughout the day, and their parents know their sons are in good hands while they're working or going about their other daily activities.
But, like many other high-quality pre-kindergarten programs, ours goes a few steps further. Our focus is on laying a solid foundation for kindergarten, using a developmentally appropriate curriculum full of imaginative and creative play, physical exercise, and self-expression.
Research has shown that children who attend high-quality pre-kindergarten programs tend to develop their reading, math, and writing skills earlier. Our teachers' experience confirms this research.
So has Dave's. He chose Fessenden's Pre-K program for his son.
'The Foundations of Education'
"My son has received the building blocks, and he's better for it," Dave says. "He has structure. He has discipline. He understands how to ask for help and when to ask for help. He knows how to challenge himself and what a challenge is. These are the foundations of education."
Dave states that he is most impressed with the individual attention his son has received in Fessenden's Pre-K program
"Boys in pre-K are all developing a little differently, and the teachers have to be in tune with those different learning styles," Dave says. "There's this incredible amount of understanding for the learning patterns of each boy and what instruction each boy needs in order to have the best outcome. And, the teachers know how to keep all these different boys engaged and challenged at the same time."
Dave's youngest son is now in second grade at The Fessenden School. He continues to receive the same level of individualized attention from Fessenden's teachers that he did when he was in pre-K.
"I think people who are considering pre-K, like we did, need to consider what that environment looks like when they're in second, and third, and fourth grade," Dave says. "If I were to summarize Fessenden, first and foremost, it is a single-sex, character-based education that nurtures and develops boys of all kinds. There's an intentionality in what Fessenden does."
What does pre-K mean to you?
What do you think is the difference between preschool and pre-K? Share it with us and other parents in the comments section below.
Whether you're looking at pre-kindergartens, preschools, nursery schools, or something else entirely, take along a free copy of the Pre-K & Kindergarten Private School Visit Checklist to make sure you're asking the right questions to find the right fit for your son.