We tend to think of our time in school as the primary years we spend in the pursuit of knowledge when, in fact, the need to grow and develop our skills continues at every age. At Fessenden, being well informed and aware of new ideas and approaches in education is central to the excellence we seek in our students and in the teachers who guide them. To that end, we schedule several afternoons each year for professional development sessions, and when the boys have an afternoon off, the teachers become students.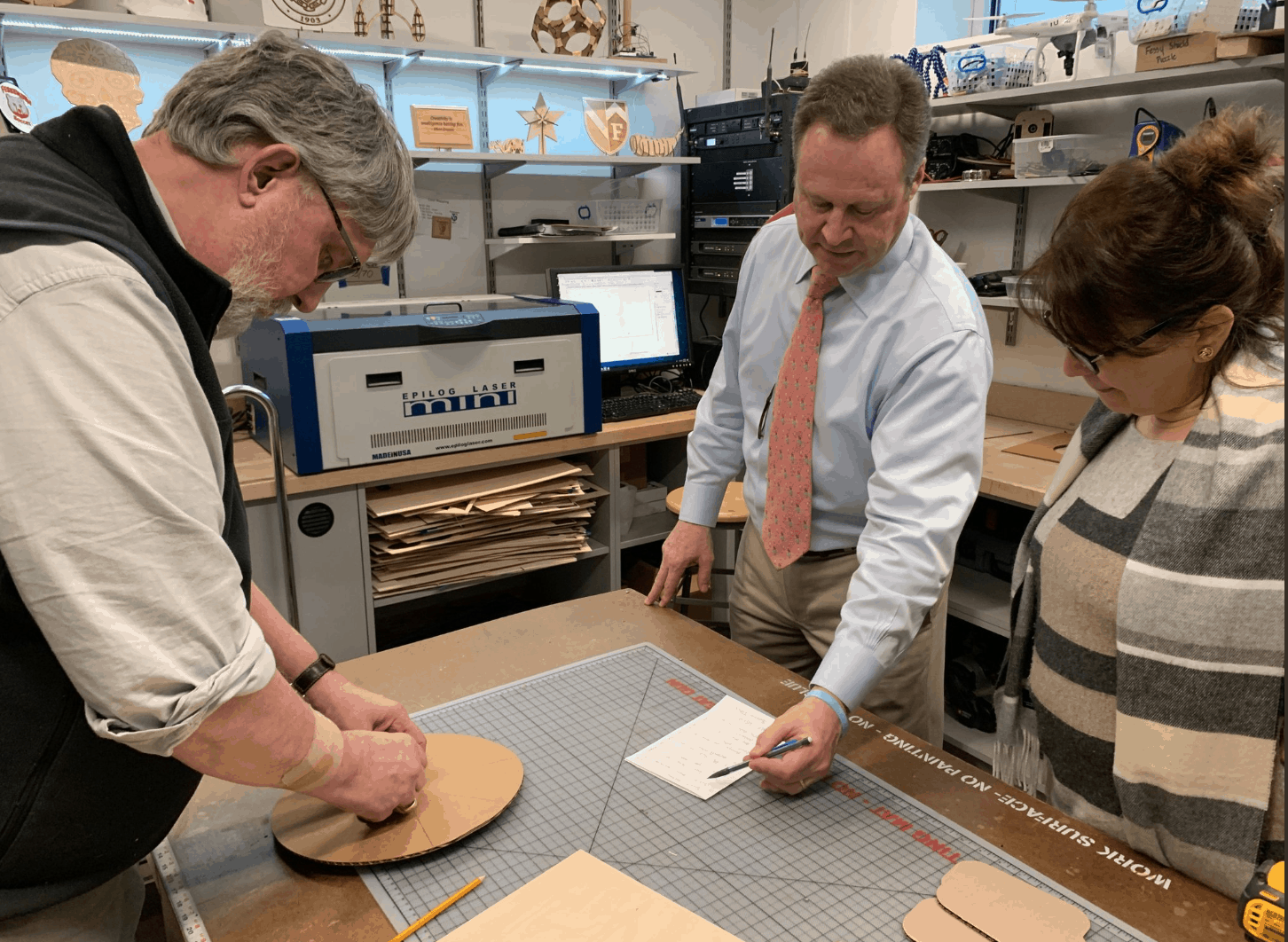 Our most recent early release day brought the faculty and staff together for a presentation in the Schoolroom and for activities based on our ongoing partnership with NuVu, an innovation school in Cambridge, MA developed in 2010 by M.I.T graduates. NuVu's pedagogy is based on the architectural studio model and geared around multidisciplinary, collaborative projects. Several members of the NuVu team were helpful advisors in the development and planning of our Ciongoli Center for Innovation (CCI).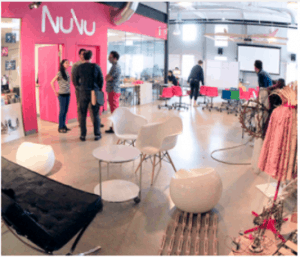 This year we have expanded our relationship, becoming a NuVuX Partner School. Fessenden is one of only 12 schools involved in this program, which includes schools from around the world, ranging from the American School of Bombay and Karam House in Rehanli, Turkey, to Dalton School in New York City and Episcopal School of Baton Rouge, Louisiana. NuVu chooses to work with public and private schools who have demonstrated a passion for creating change and infusing education with creativity and 21st-century skills.
Our NuVu afternoon began with a few words from Assistant Head of School Angela Garcia, who restated our commitment to 21st-Century Best Practices and focused on our movement from a traditional pedagogy toward a more constructionist approach. Curt Lewellyn, Director of the CCI, introduced Tiandra Ray, our NuVuX Fellow, who has been working at Fessenden this year as a coach and advisor in Upper and Middle School classes. Tiandra's brief presentation on the "Eight Things to Know" prepared the gathering for NuVu-style, small-group problem solving.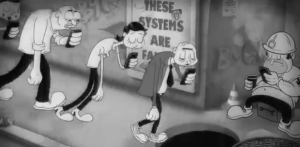 The group was then shown a short YouTube video, How Cell Phones Have Completely Ruined Our Lives, to set up the afternoon's challenge: create something that helps people disengage from their cellphones and reconnect with the environment or people around them. With guidance and coaching provided by CCI and Wheeler Library faculty, these small groups collaborated to build prototypes of their designs.
As faculty and staff discussed, drew, and discussed some more, clear ideas began to develop and the Wheeler Library and CCI filled with the noise and activity of design. Duct tape, post-its, and cardboard were the afternoon's favorite materials. Quick testing and iteration (people had only an hour and a half, after all) preceded brief presentations of clever and thought-provoking designs from the nine different groups, a process that replicates our students' experiences whenever they engage in project-based learning in the Ciongoli Center for Innovation. Through this work, our boys develop their skills in public speaking, critical thinking, collaboration, cultural competency, computer-aided design, and iterative design strategies.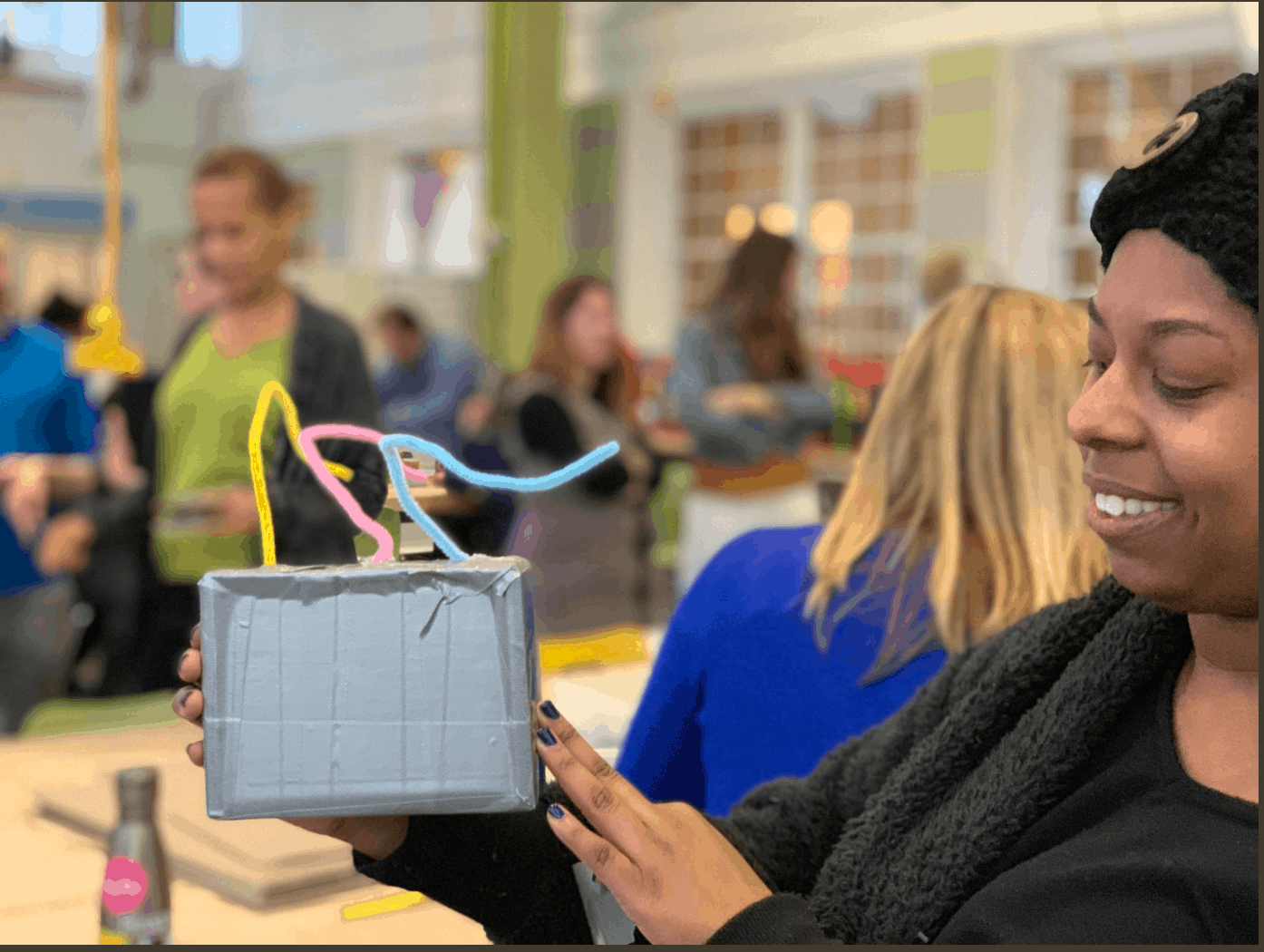 Assuming the role of students during these professional development sessions makes our teachers more aware of the challenges their students will face as they tackle real world problems, and it helps them become better equipped to guide them toward their fullest possible learning outcomes.