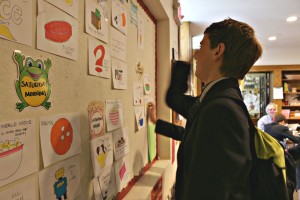 Each Wednesday, boarding students flock around the large bulletin board in the Gathering Room to check the more than 25 activities scheduled for the coming weekend. From Friday night to Sunday afternoon, Fessenden boys choose from an extensive array of options, ranging from an evening of movies and popcorn in a dorm parent's apartment to weekend excursions to the beach, the mountains, or one of the many educational destinations available in culturally rich Greater Boston and New England.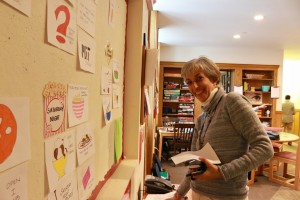 Their choices are guided by the drawings of the Assistant Director of Residential Life, Judy Gobbi, who employs her incredible artistic skill to create works of "bulletin board art" each week. Judy's whimsical illustrations bring the possibilities of each weekend to life for the boys. They eagerly survey the Residential Life announcement board, often preferring the shorthand of the cartoons to the posted list of trips as they organize a plan for the upcoming six activity "slots".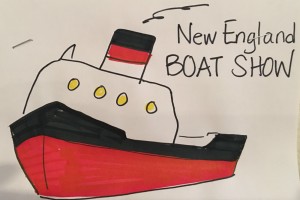 Weekends are divided into six time frames — Friday night, Saturday morning, Saturday afternoon, Saturday night, Sunday morning, and Sunday afternoon. Sunday evening is reserved for study hall, so that boarders can take care of those last bits of homework. Each of the underclass boys must sign up for four of the segments, including both nights, and ninth graders are required to choose three.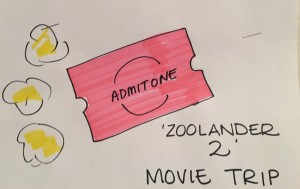 Some of Judy's artistic clues are fairly straightforward; a ball knocking down pins can illustrate a trip to a local bowling alley, or a pair of tickets means there will be a trip to the movies. Other sketches challenge the boys, providing them with visual clues that require some thought — a thimble, an iron, and a boot to indicate a Monopoly game afternoon, or a caricature of a boy with musical notes streaming from his open mouth to demonstrate an evening of karaoke! As the old saying goes, "every picture is worth a thousand words."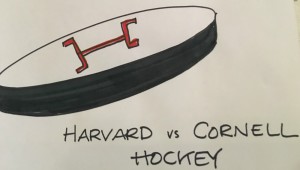 It's extraordinary to consider that for thirty-two weeks each year, Judy generates twenty-five to thirty drawings to inform and delight the boys about the amazing opportunities that await them. With only a 3" x 5" piece of paper, a black marker, and a splash of color, she literally draws the boys into the weekend fun. A collection of Judy's work during the past twenty plus years would make a fascinating book that would best tell the story of the wonderful weekend program that boys enjoy at Fessenden.