On this blog, we often write about how an all-boys private pre-kindergarten program will help position your son for success in kindergarten, the rest of his academic career, and life. A great pre-K program is a significant financial investment for most young families. It's fair to ask, "Is it really worth it?"
The decision to start your son in an all-boys private school in pre-K, or hold off until he is older, is personal. After all, you know your son best.
In order to help you weigh your options, we want to share with you the thoughts of someone who has been in your shoes. Dave Visco's three sons are students here at The Fessenden School. His youngest, now in second grade, started in Fessenden's Pre-K program, which opened its doors in 2012.
What would you say to families who are undecided about starting their sons in a top private school program as early as the pre-K level?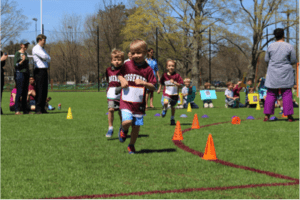 "I get why people have reservations. They're looking at an all-boys school and they're asking, 'In pre-K, do I really need to do it?' My answer is, you can't start too early. You just can't.
"What I've learned about the single-sex education process and the value of focusing on the developmental needs of boys, is that the sooner you give your son access to it the better.
"It's a gift to be able to give your son the opportunity to be in a class with 12 students and two teachers. The teachers will be able to develop a depth of knowledge about your son, his learning styles, his learning needs, his different behaviors, and be able to teach to that.
"This is partly a financial decision, but if you can do it in the early years, you definitely should do it. In my opinion, nothing prepares boys better for success than giving them an educational experience that fuels their love of learning and confidence from day one."
How did your son's experience in pre-K at Fessenden differ from what he might have had in other schools?
"The caliber of the teachers he had, for starters. Their ability to individualize the curriculum for him in pre-K, was outstanding. Boys in pre-K are all developing a little differently, and the teachers have to be in tune with those different learning styles.
"There's this incredible amount of understanding of the learning patterns of each boy and what instruction each boy needs in order to have the best outcome. And the teachers know how to keep all these different boys engaged and challenged at the same time.
"That's what it comes back to. It's really having an individualized curriculum in pre-K, focused on boys, understanding the behavior of boys, understanding how boys interact with each other in the classroom, and how to maximize that time spent together."
How have Fessenden's pre-K and kindergarten programs prepared your sons for success as they navigate the older grades?
"They've received the building blocks, and they're better for it. They have structure. They have discipline. They understand what type of learners they are. They understand how to ask for help and when to ask for help. They know how to challenge themselves and they know what a challenge is.
"These are the foundations of education. You can't go wrong starting your son's education in all-boys school, which knows how to identify his strengths and weaknesses at an early age and helps him reach his full potential"
Are you searching for a pre-kindergarten program for your son?
If you have questions about how an all-boys private pre-K program like Fessenden's differs from some of the other options you're considering, let us know in the comments section below.
To help you compare and contrast different programs, we've prepared a Pre-K & Kindergarten Private School Visit Checklist for you to take along with you as you visit schools. Download your free copy today.