"I am a teacher," says Virginia Adair, a kindergarten teacher at The Fessenden School, "but I'm also a cheerleader."
To be successful in school, it's not enough to learn reading and writing, math and science. Children need to learn to love learning itself. They need to relish taking on tough challenges and overcoming them. They need to find joy in discovery and an appreciation for the fruits of their own curiosity.
This, of course, applies at any age, but perhaps more so in kindergarten, because it sets the stage for the rest of a student's academic career. It's why for kindergarten teachers like Virginia, imparting a love for learning is one of their primary missions.
And for Virginia, it seems to be working.
"We so often hear at the end of the school day, 'What? It's time to pack up?' They're just shocked," she says. "I think they come in here with a smile and leave with an even bigger one."
Here are some of the ways Virginia teaches the students in her all-boys kindergarten class to love learning.
1. Making the Love of Learning a 'Boy Thing'
In a coed school, the girls are the ones who feel comfortable showing a love for school and for academics. In an all-boys kindergarten like Virginia's, boys feel like it's not only OK to love school, but to openly express it.
"For the boys here, school is cool," Virginia says. "We make it a really positive experience for them and they want to be here. It's a boy thing to be really bright and to celebrate your academic achievement."
2. Encouraging Teamwork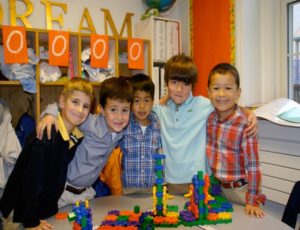 Boys love teams and they love working together. So it only makes sense to make their school experience a team experience.
Working together in Virginia's classroom, boys cheer their teammates on and help each other through the learning process.
"As a class, we talk about teamwork. We talk about celebrating their friends," Virginia says. "Not only do teachers celebrate their milestones, but their friends celebrate their milestones. We're really in it together."
3. Tailoring the Material to Boys' Interests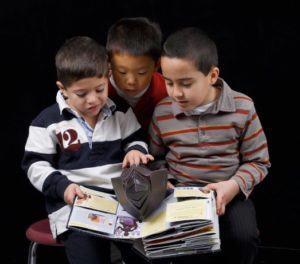 The boys in Virginia's classroom were enthralled by the action during the 2014 Winter Olympics. Noticing this, Virginia and her co-teachers asked themselves how they could harness their students' Olympic fever and channel it into their learning.
What they came up with was quite clever. They would watch a live clip from the Olympics—whatever event was being held that day—and then create math problems based on it. For example, they presented this problem after watching a snowboarding clip:
"Two snowboarders, one from the U.S. and one from Russia, are competing on the halfpipe. Both go 10 feet into the air during their runs. How many feet did they reach together?"
"What we were doing was tailoring the material to their specific interests, which boys really respond to," Virginia says. "It helps make the lessons come alive to them."
4. Making Them Feel Proud to Be Scholars
In Virginia's classroom, boys are taught to be proud of what they've learned and excited to share it with the rest of the class and with the world.
"We talk a lot about standing up big and tall when you're sharing something with the class," she says. "They're thrilled to be both gentlemen and scholars."
For example, Virginia's students recently finished a writing workshop unit and celebrated it with a publishing party, to which parents were invited. Each student had his own station to display his book and prepared a speech to introduce it to the visiting parents, explaining the topic of his book and why he chose it.
"I think we really do our best here to cheer on these boys every step of the way, especially with literacy," Virginia says. "Learning to read is really hard and can be incredibly frustrating. You have to learn to read before you read to learn."
How do you teach your children to love learning?
We're always interested in learning from parents what they do to instill a lifelong curiosity in their children. Let's hear your ideas in the comments section below.
And if you're searching for a high-quality kindergarten program where your son will grow to love learning, you'll find this Pre-K & Kindergarten Private School Visit Checklist useful as you visit schools.