Fessenden is the best educational fit for my son, but I still have to get my daughter to school. Wouldn't it be easier if I was bringing them both to the same place?
We get this question a lot. And, luckily, we have information to help alleviate your concerns.
The Power of an All-Boys Education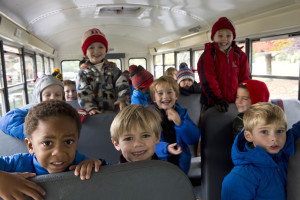 First, it's important for you as a parent to understand why it is so critical to give your son the opportunity to experience the advantages of an all-boys' education. As young as approximately 4 years old, boys start noticing differences in what's socially acceptable for girls versus for boys. Most families and children come to pre-K or kindergarten from positive nursery school experiences, and likely haven't dealt with this concern yet. But at 4 or 5 years old, boys begin to internalize social roles and behaviors. As a result, they may limit themselves or avoid certain activities because "it's a girl thing."
In an all-boys environment, teachers are able to work with boys' natural enthusiasm, channeling it toward activities that feel like play—but that begin to establish a strong academic foundation and a lifelong love of learning. Movement, critical for both physical development and fundamental learning, is balanced with time for rest. There is no shortage of existing information and research that further discusses the differences in how boys and girls learn (even at the pre-K level), and our admissions team is always happy to have a conversation with parents on this topic (contact us to learn more).
Sorting Out the Logistics
If your son has already been accepted at Fessenden, congratulations! You're likely well aware of the advantages an all-boys' education will give him, so now it's about working out the logistical details.
Located just 15 minutes from Boston and equally convenient to Cambridge, Brookline, Belmont, Wellesley, Weston, Newton, and other surrounding towns, Fessenden is easily accessible. Additionally, our school day begins at 7:50 a.m. ‒ 10 minutes earlier than most schools in the area — and students can arrive as early as 7:30 a.m. This early start time allows families to manage multiple school schedules and gives many working parents the flexibility to drop their sons off on their way to work. Still, we understand that some parents are transporting multiple children to multiple schools, so we've arranged several ways to make the commute easier:
1. Carpooling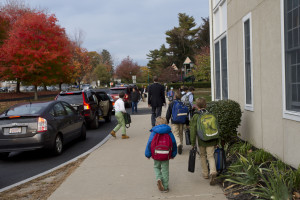 The most flexible and customizable option, carpooling can help parents establish a pick-up and drop-off routine that works best for them. Once students are enrolled at Fessenden, parents  have access to a carpool map within the "My Fessy" portal. Parents can simply plug in their address and see a labeled map with names and contact info for other Fessy parents and students near them.
2. Bus service
Fessenden offers bus service via Local Motion, a local bus company, for students from Arlington, Belmont, Boston, Brookline, Dorchester, Lexington, Wellesley and Winchester. Exact routes may vary from year-to-year based on the location of student riders, and options include daily round-trip service as well as morning- or afternoon-only.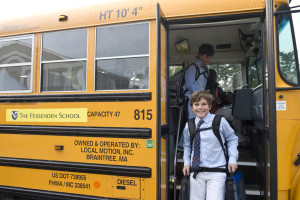 While we always welcome parents' suggestions for new bus routes, ultimately the routes are determined by Fessenden and Local Motion and plotted around central stops that are easily accessible for the greatest number of day students and parents. Safety is also a consideration (and a priority) in planning stops and routes.
Not only is Fessenden's bus service convenient and safe, it's also fun.
"It's amazing to us when the boys say that one of their favorite parts of the day is the bus ride!"
Keith Fortier, Fessenden Pre-K Teacher
"I like that it has the stop sign on the side — I like to watch it pop out. I like to talk to the bus driver, Mr. Wilkins. I also like to watch out the window on rainy days."
Luke A., Fessenden Pre-K Student
3. Rideshare Services
There are now convenient and economical rideshare services that allow children to travel unaccompanied by an adult. Many parents use services like Zemcar to ease the challenge of getting their children to-and-from school and other activities.
Learn more about the many options for managing pick-up and drop-off on our Transportation page.