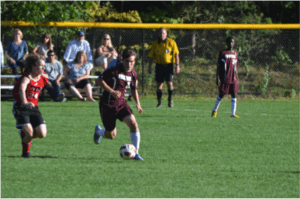 Like most boarding schools across the country, at The Fessenden School, we require our Middle and Upper School boys to participate in sports throughout the academic year. For some families, this is not a problem. High-quality playing facilities and top-notch competition are exactly what they want for their athletically gifted sons.
For a number of families, though, it is a concern. Their sons are not interested in, or not gifted at sports (or both). These families are worried their sons won't find a place for themselves at an all-boys junior boarding school; they may even be ostracized.
Nothing could be further from the truth. As Fessenden Athletic Director Pete Sanderson explains, boys at all levels of athletic ability and interest are able to find their niches on and off the field at a high-quality junior boarding school.
While sports are mandatory, competition isn't.
At The Fessenden School, we believe being active is integral to how boys learn. Boys need to move around and interact the world to make sense of it and their place in it. This learning-by-doing approach is part of the project-based learning philosophy that permeates everything we do at Fessenden.
So we see sports—which involve the body, the mind, working with others, setting and reaching goals, and taking on responsibilities—as a learning opportunity. It's not separate from our academic mission.
"Our students don't change gears when they head outside," Pete says. "They're able to run around a little more and do some things they may not do in the classroom, but it's really the same. Boys learn best when they're active, they're moving, and they can use their hands. That's what their coaches are working on when they are out on the field with the boys."
Boys at Fessenden certainly have the opportunity to pursue sports at the highest levels of competition, if they want, but that's not what we require of them. At Fessenden, like most junior boarding schools, our sports options range from the individual achievement of weight training and conditioning, to the friendly competition of intramural tennis, to the high-level interscholastic faceoffs of varsity hockey.
"For some students, the competition is what drives them, and then for others, it's learning a life skill, like mountain biking or cross-country skiing," Pete says. "They have the opportunity to get attached to a sport they might be able to play for the rest of their lives, not necessarily competitively, but for the benefits of staying in shape or just having fun. A lot of students might not be exposed that, except at a place like Fessenden."
Boys are encouraged to participate in many activities—not just sports.
One of the major benefits of attending a high-quality junior boarding school like Fessenden is the range of opportunities boys have to try new things. Sports are among these opportunities, of course (where else would a fifth-grader have the option of playing squash?), but they are not the only ones.
"Parents like the fact that, even if their son's not into it, he's going to be exposed to it," Pete says. For example, students can fulfill their arts requirements not just with studio art, but with a choice of instrumental music, photography, video production, or woodworking, among other options.
Pete's own two sons, both Fessenden alumni and both competitive athletes, were "in every play and every musical production the School put on."
"You don't have to make the choice at a school like Fessenden," he explains. "Fessenden promotes and cherishes academics, arts, and sports, and encourages kids get involved in every aspect of the School."
Do you have questions about mandatory sports at junior boarding schools?
If you're concerned about a junior boarding school like Fessenden being too athletic for your son, let us know in the comments section and we'll answer your questions.