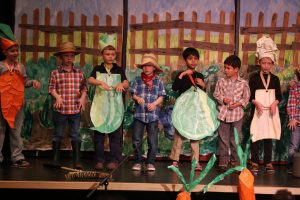 What steps must you go through to get your kindergartner or pre-kindergartner into one of the best private elementary schools in Boston? If you don't have another child already in private school, the process might be a mystery to you.
To help you understand it, we spoke with Margaret Kelly, Director of Lower School Admissions at The Fessenden School.
Private elementary school admissions is similar to the process you went through to apply to college—but with at least one key difference, Margaret explains.
"The learning styles of these students are still emerging. We don't have years of transcripts to review like colleges and secondary schools do," she says. "We're looking more at developmental readiness and our admissions process is designed to measure that."
Here are the steps you might expect to complete if you apply to one of the best private elementary schools in Boston:
Step 1: The Inquiry
At The Fessenden School, first contact is initiated through an online inquiry form. Most schools also offer several open houses and other admissions events throughout the year for families to get a first impression of the school.
After expressing their interest, prospective Fessenden families must call the school to set up two very important visits: a campus visit for parents and a small group visit for children.
Step 2: The Parental Campus Visit
The campus visit is your chance to learn more about a school, connect  with teachers and staff, and ask questions of admissions staff. (Here is a list of good questions to ask on a private school campus visit.)
It's also an opportunity for admissions officers to get to know you and your family. This is not as formal an interview as you might expect, Margaret emphasizes.
"Parents come on a hour-long tour with us. As they ask questions along the way, it reveals their priorities," she says. "It's an organic interview. It's not like they're sitting on the couch and I'm quizzing  them."
Step 3: The Small Group Visits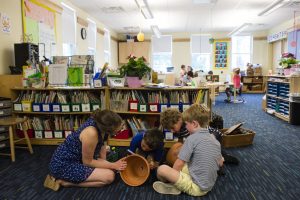 Small group visits let teachers and admissions officers observe your child in a classroom setting. This may sound stressful, but Margaret points out it's not much different from a typical preschool class. They aim to make the experience a positive one.
"Most of the applicants are coming out of preschool settings, so what we're creating for their visit is a fairly familiar model to what they're used to," she explains.
At Fessenden, the small groups comprise up to eight boys. Each visit lasts about one and a half to two hours.
"They will navigate their way around the various activities. Stationed at each activity is a teacher or an admissions officer. So while they're working, they'll be interacting with other children and an adult and that adult has a chance to observe," Margaret describes.
In addition to the small group visit, kindergarten applicants at Fessenden also have a 45-minute one-on-one interaction with a member of the admissions team.
Step 4: The Paperwork
At Fessenden, small group  visits usually occur between the beginning of December and the end of January. Complete application forms are due Feb. 1. Transcript release forms and teacher evaluations are due by that date, as well.
After that, admissions officers set about the challenging task of creating  a kindergarten or pre-kindergarten class.
"We really strive for great diversity on many, many levels when creating a class," Margaret says. "We're looking to create balance and opportunity for children to learn from the variety of learners in the room with different styles and temperaments."
In coming articles, we'll hear more from Margaret on what admissions officers like her look for when they meet with students. For weekly updates, subscribe to our blog.
If you have any questions about the admissions process at the best private elementary schools in Boston, please let us know in the comments section below.