At the start of 2018-2019 academic year, Fessenden established the ninth grade cohort program, an initiative designed to allow for more cross-disciplinary, project-based learning (PBL).
Launch of the Ninth Grade Cohort Program
In the fall of 2018, ninth grade boys were separated into groups, and each group was placed in the same English, Global Citizenship, and biology classes. The students explored the topic of food and its impact on cultures and society in a PBL unit called "Food for Thought," which focused on this subject through the lens of three different disciplines. In English, students researched and reflected on food from a cultural perspective; in Global Citizenship, they looked at the economic, political, and social aspects of food; and in biology, they took a nutritional and scientific approach to food.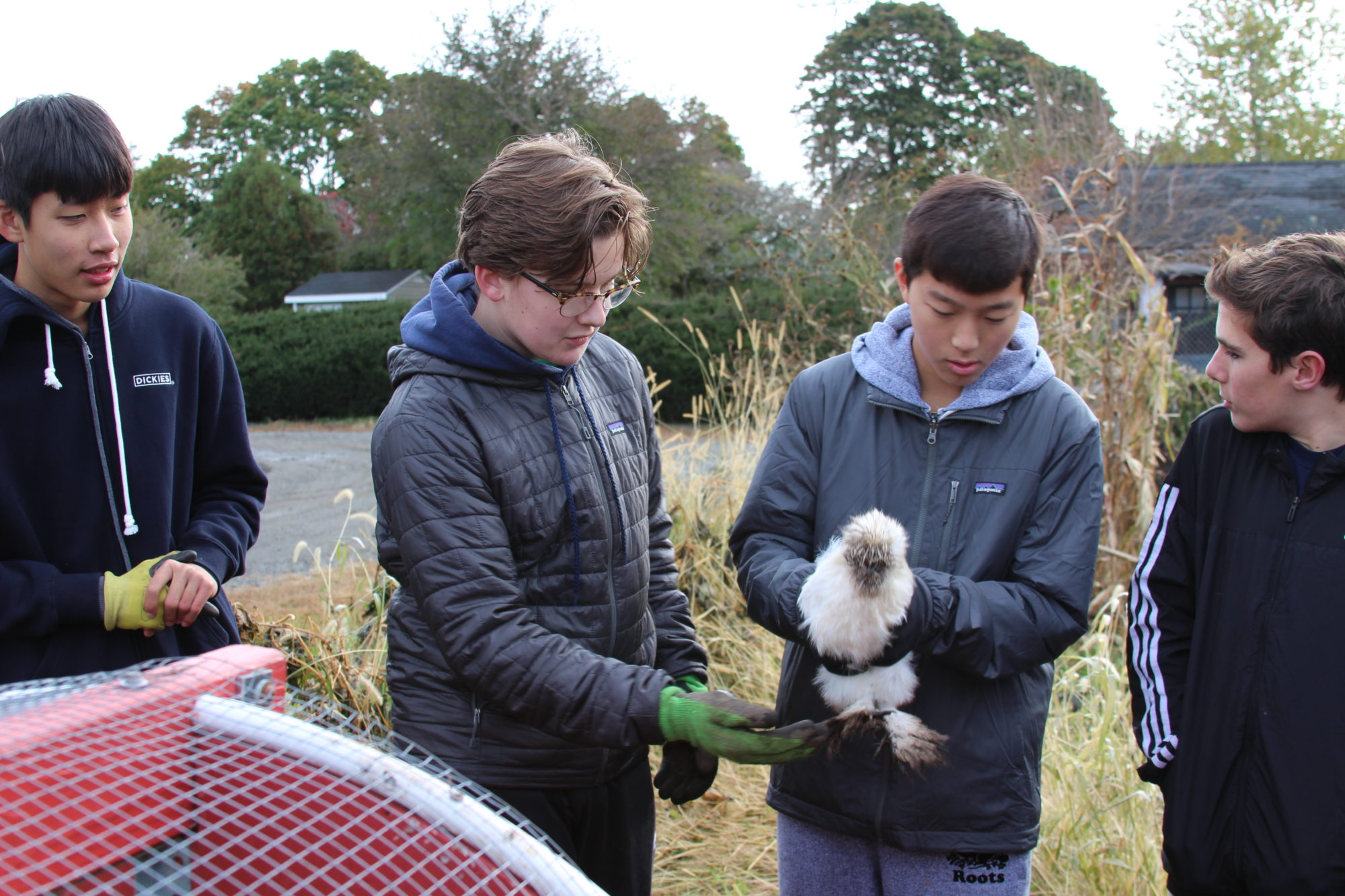 In the spring of 2019, with the help of NuVuX, ninth graders participated in a three-week studio learning experience shaped around the idea of biomimicry and its potential impact on authentic problem solving. Biomimicry is an approach to innovation that seeks sustainable solutions to human challenges by emulating nature's time-tested patterns and strategies. The prompt that framed this studio was, "How can observing the natural world help us find solutions to human problems?"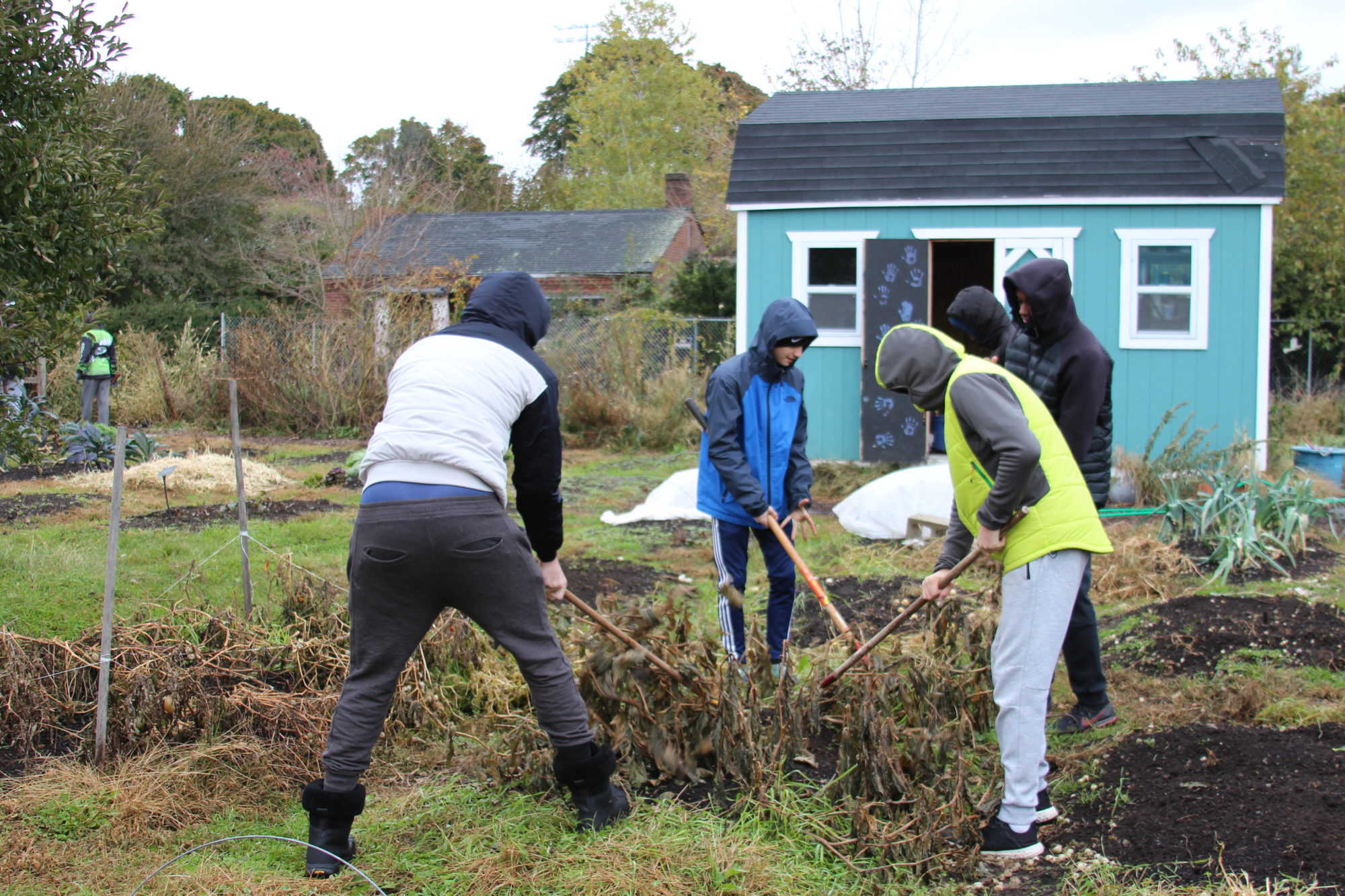 The ninth grade cohort model provided a schedule and structure that is a strong fit for the NuVuX model of studio learning, as it allows more time and longer periods for students to conduct extensive research and refine their project ideas. Students continued to build on their cognitive skills of identifying themes, asking questions, and making connections to real-world situations through collaboration, critical thinking, communication, and creativity.
Year Two of the Successful Ninth Grade Cohort Program
This fall the ninth grade boys were again separated into groups that shared the same English, Global Citizenship, and biology classes and given the task of exploring the art of storytelling.
"Storytelling is one of the most important and enduring traditions that humanity possesses. Through stories we forge connections, we entertain, and we preserve history and lore. It stimulates our brains in ways that nothing else can and is an ideal topic for this year's program," shares Erika Hoddinott, Fessenden's Upper School Librarian and Innovation Coach.
Guided by two essential questions – How do stories bring us together? Why do they matter? – the ninth grade boys began exploring the role of storytelling by meeting with Fessenden's neighbors at the Scandinavian Living Center. The students interviewed residents and documented their stories. In a final step, the boys will translate those stories into visual representations.
As they did with last year's project, ninth graders will examine the cohort topic through the lens of three different disciplines. In English, they will study story form and structure and evaluate how choices in each affect a story's impact. In history, students will explore the power a story can have on history by studying The Epic of Gilgamesh which relates the deeds of a famous Sumerian King. In addition, the ninth graders will study the historical context of the time period related in the Scandinavian Living Center residents' stories to understand how events, people, etc. impact individuals and entire societies. And, in biology, the boys will examine neurological responses to storytelling including reactions in the sensory cortex and hormonal and neurochemical changes to the body.
"The Ninth Grade Cohort Program helps us fulfill our mission of teaching boys the skills that will prepare them well for secondary school and beyond: critical thinking, collaboration, creativity, communication, character, and cross-cultural competency," explained Curt Lewellyn, Director of the Ciongoli Center for Innovation. He continued, "It is a great addition to the ninth grade curriculum and we look forward to seeing what this year's cohort achieves."