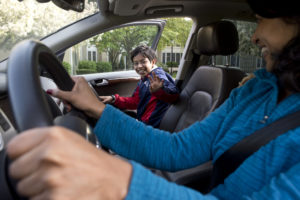 At Fessenden, fourth grade is a unique and formative year. Students create strong, meaningful connections with their peers, and they take on increased responsibility for their own individual learning. From their first day in September, they are informed of their role as leaders of the Lower School. As leaders of the Lower School, these boys broaden their contributions to the wider school community. In a fourth grader's day, he is presented with a number of opportunities to show himself as an eager learner, a good friend, and a role model for younger students in the division.
7:35 a.m. Bounding into Bernon Hall with oversized backpacks and smiles to match, the buzz of a new school day crescendos as each student enters. While some boys head straight to their classrooms, others read or play chess in the hallway.
7:45 a.m. As boys begin to arrive to their homerooms, they are greeted with a "to do" on the board. Today they are instructed to get a book and read silently. On other days, they may have a math problem or a writing prompt. These activities are designed to get the students ready for a day of learning. Throughout each day, homeroom teachers guide boys' learning across multiple disciplines, including math, social studies, reading, and writing.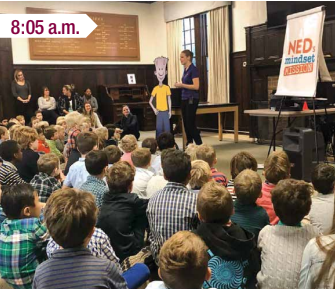 8:05 a.m. The entire Lower School files eagerly into the Kelley Room for Morning Meeting, as they do twice each month. As the leaders of the Lower School, fourth graders sit strategically throughout the room to serve as role models of attentive listening. These meetings build community by bringing the whole division together for group experiences, such as interactive games and discussions, movement activities, or innovation challenges. After greeting one another, boys hear a guest presentation called "NED's Mindset Mission," which is about the adventures of a cartoon boy who ultimately shares an important message: "Never give up, Encourage others, and Do your best."
Next, the presentation of commendations creates a stir in the room. With special notes written to particular boys by their teachers, commendations recognize students for showing remarkable character, achieving academic success, or going above and beyond to help a classmate or teacher. As each boy's name is called his peers cheer for him in a whisper, as all applause is to be held until the end, and each student stands with pride as his accomplishment or good deed is shared in front of the entire Lower School.
Finally, a morning message is shared, and the students depart the Kelley Room ready to continue their day.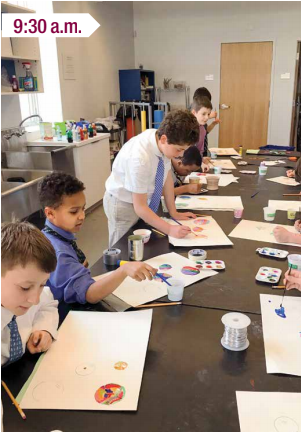 9:30 a.m. In class with Lower School Art Teacher Kathleen Brophy, fourth graders have a choice for how they spend their time. They have started two projects—three-dimensional marble paintings and the creation of a town or landscape with small pieces of cut, painted paper. Kathleen provided the deadline for both projects, and the boys have the freedom to choose which one they work on during each class period. By being given this independence, fourth graders have ownership of their learning process, and they develop their time management skills. In Middle School, boys are confronted with more self-directed projects, and this increased responsibility in fourth grade helps to prepare them.
10:15 a.m. In Fourth Grade Teacher Jamie Ames' class during social studies, boys are about to embark upon the Oregon Trail project. While the academic focus of this annual project is the Oregon Trail and westward expansion, the framework is designed to teach and cultivate leadership skills in the boys as they prepare for fifth grade. Each student is assigned a character who, at this time in history, would have made the trip from Independence, Missouri to the state of Oregon. After being split into teams and voting for captains, they work in groups and collaborate to determine the best path forward, amassing "points" along the way. They are also able to collect points by demonstrating leadership skills and good behavior throughout all parts of their day—and they are encouraged to go above and beyond to do so. Academically, this project culminates in a research paper, but the biggest takeaway is their developing ability to look outside of themselves and see the bigger picture in their day-to-day life.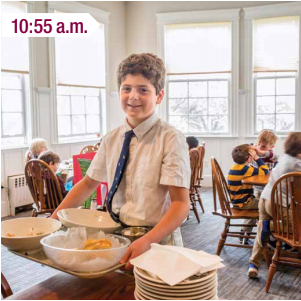 10:55 a.m. The excitement is palpable in the Sanderson Dining Hall. The chalkboard menu reads, "Fessy Pan Pizza"—a favorite among students. Seated with boys from each grade, students in Grades 1–4 join a faculty member for a family-style meal. (Boys in Pre-Kindergarten eat in the Stettler Pre-K and Kindergarten Wing, and, once Kindergartners have adjusted to the school year, they join the older students at their own tables in the dining hall.) The piping hot pizza is already present at the table, and third grade boys, with hurried commitment, retrieve water and milk for their fellow students. They are busy today—third graders are also responsible for getting "seconds" of any portion of the meal, and the pizza is gobbled up quickly. With students from several grades present at each table, boys get to know many other students in the Lower School, especially as the table assignments change on a consistent basis.
Many aspects of lunch time are designed intentionally, and leadership opportunities are present during clean-up. Third and fourth graders return all the items to the kitchen. Fourth graders also have the special responsibility of bringing dessert to the table and, as a privilege, have the first choice off the plate. Expanding their roles as leaders of the Lower School, a rotating group of fourth graders help the Kindergartners clean their tables. Taking pride in this responsibility, the older boys always arrive promptly, excited to help the younger students.
12:00 p.m. Over in Fourth Grade Teacher Marjie Hendrick's class, boys are putting the finishing touches on their American Revolution projects in the Ciongoli Center for Innovation (CCI). Working with Innovation Coach Lauren Maiurano, they have used Gravit or Tinkercad, two design tools, to create their own two- or three-dimensional symbols that represent their American Revolution topic. They have made these designs come to life by printing them on the laser cutter or three-dimensional printer. Each set of partners also made an iPad video game about their topic using Hopscotch, a coding application.
Leading up to this design work, students collaborated with a partner to make several choices about their own learning throughout this two-month, project-based learning unit. Together they selected multiple texts, and after reading broadly for a few weeks, each pair of students chose one topic on which to become experts. After conducting their research and taking copious notes, they worked to share their knowledge in many forms, including writing, illustrating, and digital storytelling.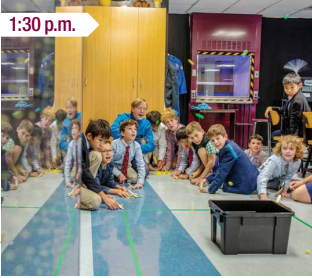 1:30 p.m. The day ends with Science Teacher Bob Pflugfelder, affectionately known as "Science Bob." Boys enter his classroom eagerly, as today is the competition for their catapult projects, the culmination of their unit on levers and the scientific method. The students were charged with building a catapult that would launch miniature balls to a designated spot across the room. As they worked on various iterations of these simple machines, they determined the correct angle, distance, and force so the balls would land on target.
Each day, fourth graders walk out of school more and more prepared for what lies ahead of them. Throughout fourth grade, boys develop strong character and are taught to be leaders in many ways. By the time they get to the Lower School Closing Ceremony in June—where they stand individually and share their most impactful memory or experience from Lower School—they have all the tools they need for their next step. As thoughtful leaders and productive learners, they are well-poised to be successful in Middle School.