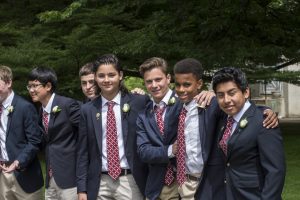 Your son's report cards boast all A's. His resume is brimming with volunteer experience. His elementary school teachers are standing by to make glowing recommendations. He's shown prowess on the soccer field or a budding virtuosity on the clarinet.
That should be enough to stand out to a top junior boarding school, right?
Not exactly, according to Caleb Thomson '79, Director of Admissions at The Fessenden School. Admissions teams at top junior boarding schools like Fessenden certainly do look for students with solid academic records, athletic or artistic talent, and a history of giving back to their communities. But resumes and report cards aren't all they're looking at.
Most of the hundreds of applicants that apply to a school like Fessenden every year have shown academic, artistic, or athletic promise. To narrow their choices, admissions officers like Caleb are watching keenly during and after campus visits for something else: engagement.
Junior boarding schools want students — and their families — who want to go there, Caleb explains. They want students who understand the unique benefits of that junior boarding school and are excited about how they might fit in.
Junior boarding school admissions officers don't want to feel like any old school will do for you and your son.
"We want to see families that have done their research about our school," Caleb says. "We want them to be able to speak enthusiastically about the opportunities we offer. We want students who are a good fit for our community — and for whom our community is a good fit."
Here are Caleb's top three admissions tips for junior boarding school applicants. Talk about these with your son as your junior boarding school campus visits approach.
1. Ask informed questions during the campus tour.
"Applicants should have questions about the school based on what their interests are," Caleb advises. To admissions officers, this shows your son is not only excited about a school, but he is starting to envision himself there.
For example, if your son is touring The Fessenden School, he might ask about the Ciongoli Center for Innovation (a cutting-edge technology workspace) if he's interested in computers or robotics. Good questions would be, "How often can I be in the Center for Innovation? Which classes use it? What kind of technology can I use there?"
"Because we're very focused on project-based learning here at Fessenden, questions like this would show a level of interest to an admissions officer and maybe a good fit for our school," Caleb says.
If your son is an athlete or an artist, he might ask for more details on those programs:
Will I be able to play on the varsity team? What

other opportunities to play

are there?

Am I limited to a single sport or can I try different options?

Can I meet the soccer coach?

Can I see an art classroom?

How often does the orchestra rehearse?
2. Talk with other adults besides the tour guide.
Another way your son can show his excitement for a junior boarding school is by talking to the adults he meets on his campus visit: teachers, coaches, dorm parents.
If your son is shy, Caleb explains, that's OK. Tour guides will make introductions. But they're watching to see how your son takes it from there.
"When applicants speak with a coach or a teacher about their interests, what they're good at, and what they like doing, it shows their comfort level and their ability to interact with adults that they are meeting for the first time," Caleb says.
This is something for which you can help your son prepare. As the campus visit approaches, introduce your son to your friends and colleagues. Help him get the conversation going and coach him along as he talks about his interests and experiences.
You might find that, once he starts talking about something that excites him, your son's shyness will fall away.
3. Keep the lines of communication open.
In the eyes of admissions officers, engagement with a junior boarding school should extend well beyond the first campus visit. Thank-you letters and emails are customary, but admissions staff are even more impressed by follow-up questions.
"I usually get a quick thank-you note from the boy and a longer one from the family, but we love when a boy takes it upon himself to ask follow-up questions by email," Caleb says.
A good time for more questions is after you and your son have visited several schools. Follow-up email questions can help you and your son compare the schools you've seen, as well as signal to admissions officers that you're still interested.
Share your admissions tips for junior boarding school applicants.
Is your family in the process of applying to junior boarding school? Have you just been through it? What are your tips for gaining an edge with admissions officers? Share your ideas with other readers in the comments section below.
If you're just about to embark on campus visits, be sure to take along your free copy of the Junior Boarding School Visit Checklist. This helpful checklist includes the 16 most important questions to ask to find the best fit for your son.