Too many private school searches begin and end within a 10-mile radius of the family's home. Or, the private school search is limited to the top five options in whatever "best schools" ranking the family chooses to consult.
The truth is, when you're looking for a private school to start your child in kindergarten or pre-kindergarten, proximity and prestige are only two of the factors that should play into your decision. And as educational consultant Carol Kinlan told a group of families gathered at The Fessenden School earlier this year, they are far from the most important ones.
As Carol pointed out, there is no one-size-fits-all solution to your private school search. What matters is finding the right fit for your child and your family. It's a very personal decision based on your family's values, your goals, your child's disposition, and of course, more practical considerations like distance and cost.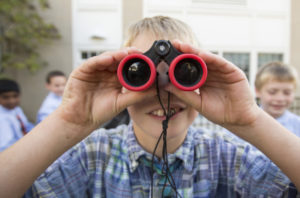 The 3 Elements of a Private School Search
Private School Review breaks the search criteria into three main categories:
Practical requirements

like

transportation

and budget.

Desired requirements

like the teaching model and school environment.

Extracurricular requirements

like sports and music.
The first and third categories are easy enough to research; a school either has a badminton program or it doesn't. Unfortunately, many families skip over the middle category, and that can lead to a disappointing experience for children and their families.
Here are Carol's top tips for learning more about your child and your family to make the right private school fit:
1. Discuss your family's values.
The early elementary years have a huge impact on a young child's developing brain, not just the information he learns but the values he internalizes. His view of the world—and his place in it—expands rapidly from encompassing his home and family to a whole diverse community of people and places.
The values that will persist throughout your child's lifetime begin to form during these critical years and his school environment, teachers, and classmates play a major role in that. Plus, as Carol points out, "Your child is going to meet the friends he may have for the rest of his life during this time."
Before beginning your private school search, have an honest conversation with your spouse and the rest of your family about what you value and what you want your child to value. Maybe even write it down and carry it with you for reference as you visit schools and meet with teachers and staff.
"Look at each school and ask yourself, 'Are the values here my values? Is this my kind of community?'" Carol advises. "Progressive, diverse, traditional — there's a school for every family and child."
2. Ask your child's preschool or pre-K teachers for an assessment
As parents, you and your spouse know your child the best, but who better to turn to for a second opinion than the preschool or pre-K teachers who have been working your little one in a classroom environment for the past year or more? Based on his or her training and experience, a preschool teacher may have noted subtle clues about your child's development that you overlooked.
But, Carol cautions, to get the most honest information from a teacher, be specific. Preschool teachers have a habit of emphasizing the positive to anxious parents.
"From a neurocognitive perspective, these early years are critical," Carol explains. "You really want to know if there are any challenges, even if it's hard to hear. If the preschool teacher is saying, 'Everything's great,' push a little more."
Carols suggests using a 10-point scale with preschool teachers: "On a 1-to-10 scale, how is my child doing relative to other children their age in terms of communication skills, attention and behavior, learning new information, and so on?"
What are you looking for in a private school?
What are you focused on during your private school search? Did we overlook something? Share it in the comments section below.
For more expert advice on conducting a successful private school search, read our guide for parents, The Pre-K & Kindergarten Private School Visit Checklist.